A few years ago, a show on Disney channel called Girl Meets World premiered an episode in which an unorthodox literature teacher attempts to plan a lesson around Frank Miller's the Dark Knight Returns. In it, a student questions about being taught "important books," the instructor responds, "This graphic novel is as important to its style of literature as any book you can think of." The entire episode attempted to impart a lesson by somewhat mirroring the events that occured in the Dark Knight Returns.
What was the point in this? It's just a longwinded introduction to show just how important this book has become over the years. This is a mainstream television series not geared towards comic book fans, but children on a network that currently owns DC's rival, praising it as an important work of literature. It's permeated our mainstream so much and deservedly so.
And all this was just to talk about how it's such an important book and why people are constantly creating things inspired by it. In this case, a beautifully detailed statue from Iron Studios. The statue depicts Batman alongside Carrie Kelley as they soar over Gotham city. The statue is so beautifully painted and sculpted that it looks like it jumped right off the page… with better lines and color. It actually kinda looks better than the comic book panel that it was based off of.
Take a look: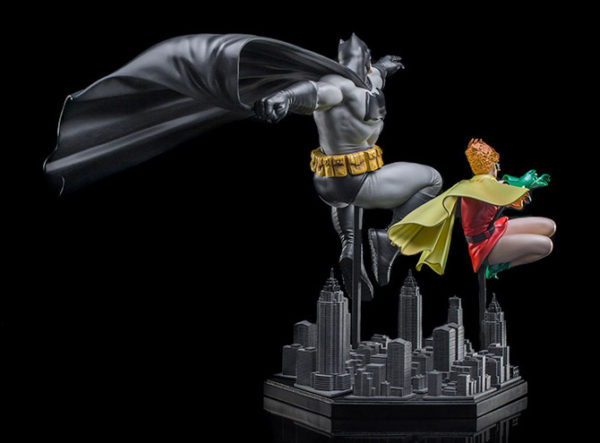 Here are the details:
From Frank Miller's The Dark Knight Returns, the amazing duo, Batman & Robin, join the 1/10 art scale series. Standing just about 9 inches tall, these two heroes are sculpted on display bases hovering over a Gotham City themed diorama base.
Product Features
8.90 inches (22.60cm)

Made of polystone

Limited edition

Based on the art of Frank Miller

Hand painted
The statue is available for pre-order at $184.99. The statue is expected to release in the 2nd quarter of 2018. That gives you a bit of time to save up your pennies.