"Vote Harley", Part 4
Writers: Jimmy Palmiotti, Amanda Conner
Artist: John Timms
(Minor spoilers ahead)
The campaign from hell continues in this week's Harley Quinn #31. After removing herself from the mayoral race, she finds herself stuck between a kidnapped lover and a jail cell. After making a sacrifice, and springing free, Harley gathers her rowdy rebellions to help her track down Mayor Deperto and his evil goons. By issue's end, she finds herself once again stuck in a tough situation, and it appears not everyone is getting out alive.
Whoa.
This ride has been a blast, thanks to writing duo Amanda Conner and Jimmy Palmiotti. The two are ending their run on the book after issue #34, and it seems like they're working to go out with a bang. The ending of this issue is great, even though it may not end well. I've enjoyed the fun the writers have had in this world, always toeing that line of ridiculous, but never crossing into absurd. However, in issue #31 they have raised the stakes and really put an important life on the line. Sure, it's fun but also there's concern. Harley's been able to shake off everything and have fun, but if all goes as it seems, I don't see how she'll rebound. I'm looking forward to that journey.
John Timms, a familiar name with the Harley Quinn book, continues the art this week. I've enjoyed everyone providing the pencils for this book, and nothing changes here. With his own style, he's able to create his own look, yet let it blend in with the artists that have come before him. Each panel gives detailed sketches of each character and setting, AND continues this overall fun vibe and look that this book has stood out with. Each page is just a breath of fresh air that I'm looking for each week. I just love this book.
Conclusion
As we count down to the end of Palmiotti and Conner's run, Harley Quinn #31 also seems to be working toward ending a chapter. Her battle with the mayor has been cranked up to an 11 with a final face-off surely on the horizon. Sadly, I don't think one of the characters will be there to witness. Lucky for us, it's making the book that much better.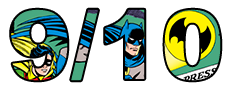 Images courtesy of DC Entertainment