"As we anxiously await the debut of Justice League, DKN celebrates the release of the live-action film with reviews of the DC Universe Animated Movies starring 'The World's Greatest Super-Heroes.' Our eighth review is Justice League vs. Teen Titans."
Director: Sam Liu
Writers: Bryan Q. Miller, Alan Burnett
Starring: Jerry O'Connell, Jason O'Mara, Rosario Dawson, Stuart Allan, Taissa Farmiga, Kari Wahlgren
After deliberately disobeying Batman, Robin is sent to "boarding school" at Titans Tower. There, he attempts to adjust (or make them adjust) to each other's clashing lifestyle. After a new threat begins taking over some of the Justice League, the Titans must work through the differences and come together to defeat a threat unlike anyone has seen before.
I have seen Justice League vs. Teen Titans twice: once right when it came out, and another to prep for this review. Each time I felt the same: good elements, fights, characters and action. Unfortunately, it comes up short for me and just isn't my cup of tea.
Let's start with the bad. I can't stand Damian. Ever since Grant Morrison introduced us in 2006, I've found the character to be annoying, arrogant, whiny and a distraction. This didn't change when he was brought into DC's animated universe in Batman & Son. It certainly hasn't changed for this animated movie either. I find him purely unenjoyable. I understand he needs to have an arc, but director Sam Liu takes it too far in the beginning of the movie where I'm fed up after the opening. Damian bothered me this entire movie.
Another negative with the film is the ending with Trigon. Once Raven found out he was alive, we entered heavy exposition area. What's unfortunate is that there was so much explaining going on, that I couldn't follow along and keep track. Then, fighting begins and we're taken to another world/dimension/whatever where it continues. I didn't understand, and I didn't like it.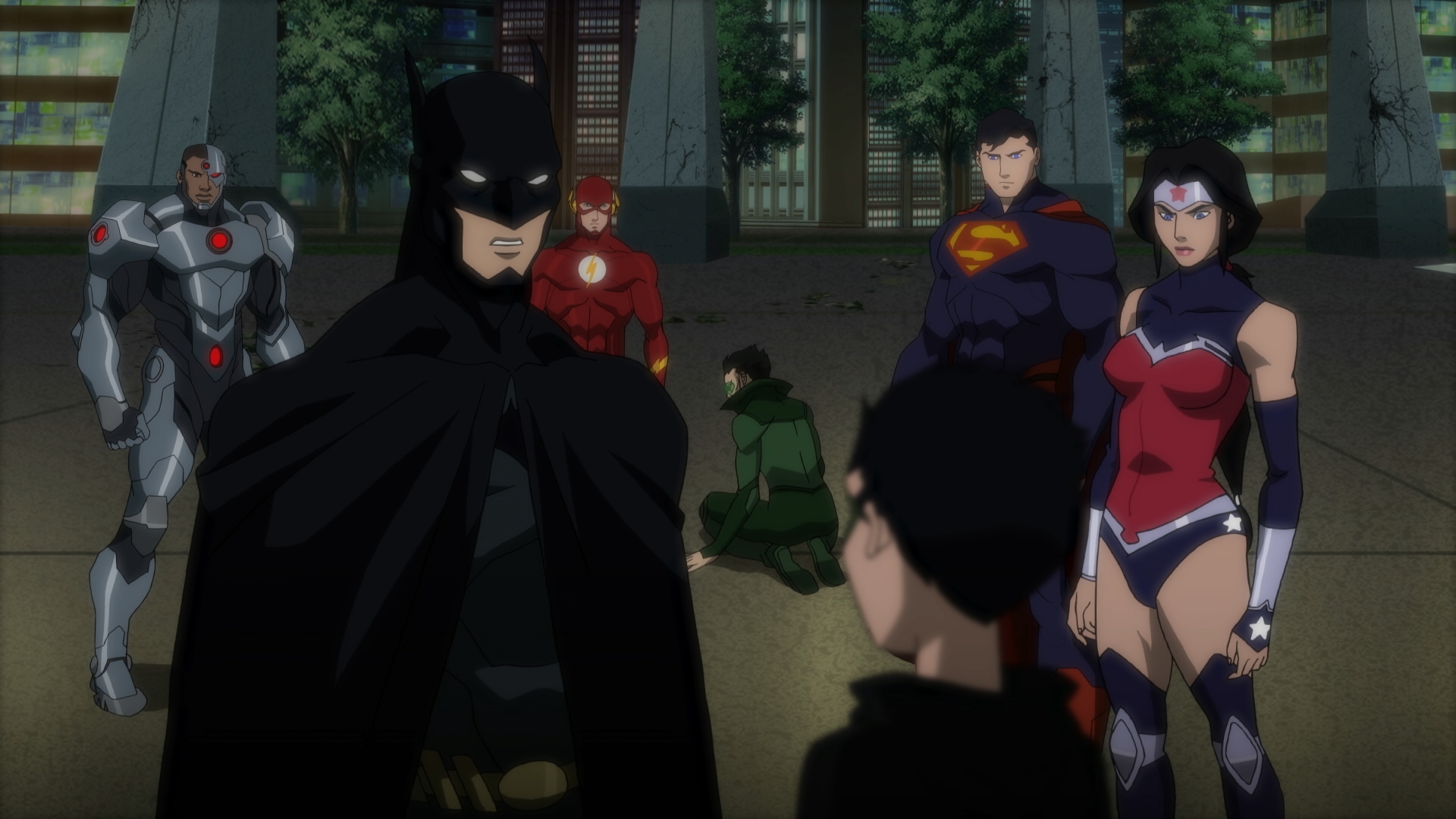 Okay, now to the good parts of the movie. First and foremost, the action. The beginning fight between the Justice League and the Legion of Doom was sensational. I loved how we were able to follow each hero and villain going mano a mano. To see Superman take down Lex in his villainous suit was a total geek out moment. Batman's choice of taking on Solomon Grundy was a surprise but still fun. And it was cool to see Flash taking on Weather Wizard, who sometimes it seems we forget about. The opening scene was a blast.
Another plus was the actual camaraderie between the Teen Titans, lead by Starfire. I really enjoyed how they lived/worked/talked to one another. The relationships were strong, loyal and genuine. The humor also worked pretty well, obviously lead by Beast Boy. A highlight was their bonding trip to the fair, as well as the dance off (which I admit was ridiculous but still pretty fun).
Conclusion
Director Sam Liu and writers Bryan Q. Miller and Alan Burnett crafted together a pretty decent animated movie. While the Justice League hardly fights the Teen Titans, they do go at each other for a little bit, so it's not completely deceiving. Instead, we have a movie that's more about an outcast fitting in with a new crowd, as well as learning to adapt and come together to take on something bigger than yourself. Aside from my personal disdain for Damian Wayne, and a third act that gets muddled along the way, this is still a movie worth checking out.

Don't miss our final Justice League animated movie review: Justice League Dark. Also, if you have missed our past reviews, click here.