Justice League is one of the most anticipated films of the year, and it debuts in T-minus 9 days. The cast, with Warner Bros. keep giving the fans snippets after snippets. Revving us up, and so in the recent Justice League press interview with Jason Momoa (actor of Aquaman) BBC Radio 2 has revealed that Justice League will have an after-credits scene!
Jason Momoa: They do [have to watch right through the end]. You gotta sit through the whole thing, go through the credits."
Thus far, the majority of the films from the DCEU did not tempt their fans with after-credit scenes. Man of Steel, Batman v Superman: Dawn of Justice, and Wonder Woman has not carried out this trend. Suicide Squad was the first film to indulge us, having the audience see Bruce Wayne (Ben Affleck) collect files from Amanda Waller (Viola Davis, star of How to Get Away With Murder). It is inferred that they are files on the future members of the Justice League.
In addition to an after-credit scene, Justice League has promised to carry a lighter tone. This is no correlation to Marvel's success in the MCU, but rather how the Justice League is like in canon. Their origin (at times) come out of much more violent tragedies. However, when they are a team, they jest and carry comradery. Of course, this will result in a lighter environment. We can already see this in the famous "Is she with you?" scene. Being playful is being part of the Justice League after all.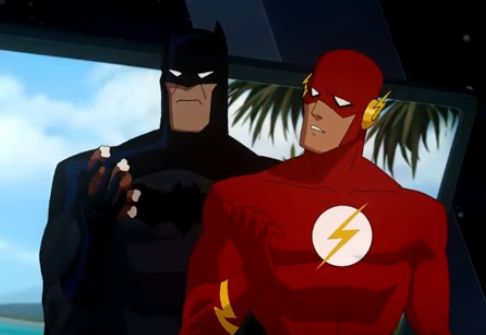 [Batman has literally stolen a pretzel from Flash, and eats that half-eaten pretzel]
Directed by Zack Snyder, starring Ben Affleck as Batman, Gal Gadot as Wonder Woman, Henry Cavil as Superman, Jason Momoa as Aquaman, Ezra Miller as Flash, and Ray Fisher as Cyborg. Justice League releases in theater November 17th, 2017.