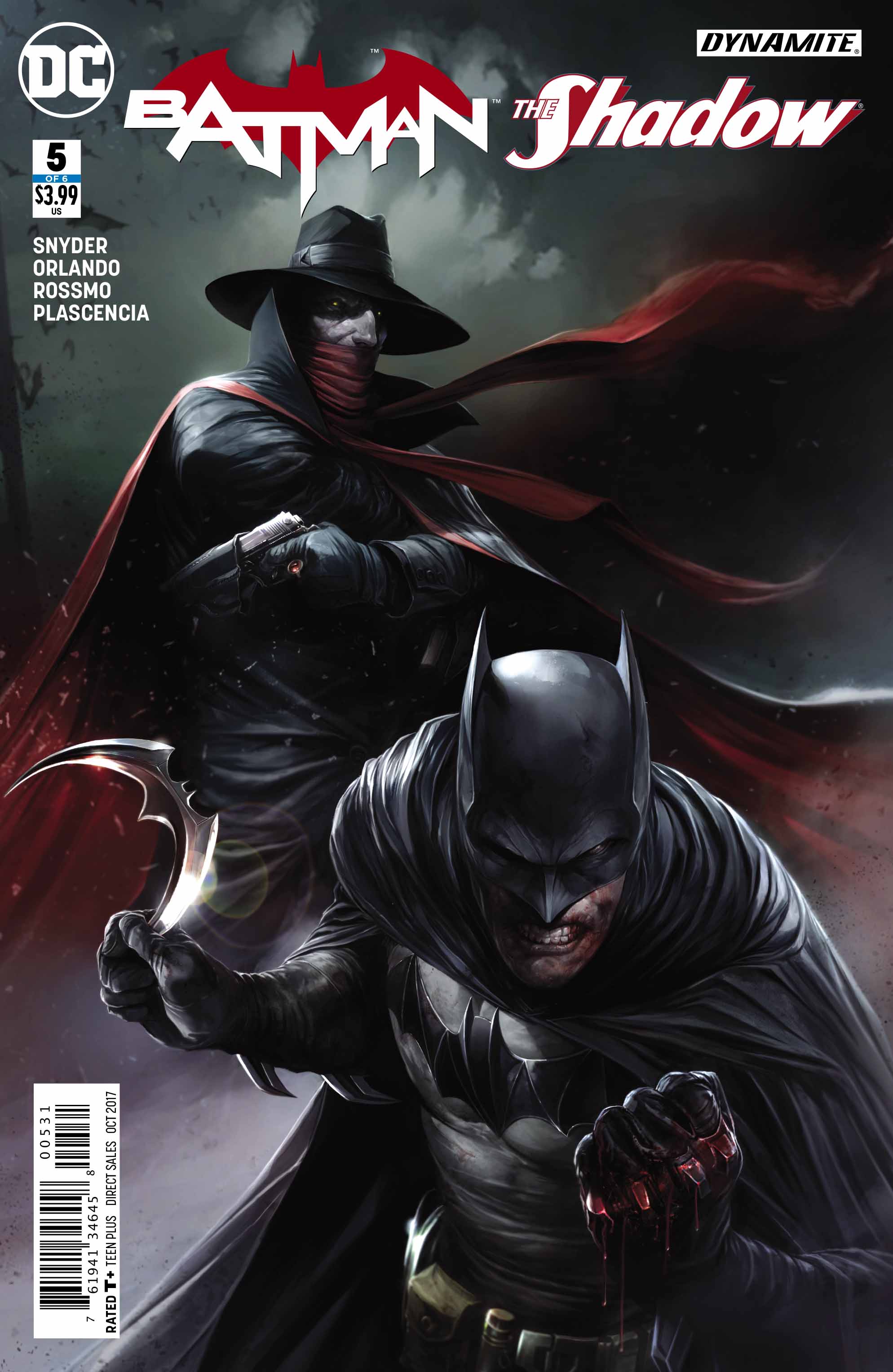 Writers: Steve Orlando, Scott Snyder
Artists: Riley Rossmo, Ivan Plascencia
Batman is at risk, wounds this huge are almost impossible to survive. The weapon used is mystical and eventually, eats away at its victim. Thank goodness we have an Alfred Pennyworth! Batman and The Shadow have to beat Joker and the Stag to Shamba-La, but there's plenty work to do. The level of good narrative, comedy, and horror has been brilliant each issue and #5 carries through. Albeit, a little slow.
Batman's level of determination is as strong as ever, as he is pushing himself to the brink. This makes for great tension. It also increases my fondness of a character.
"Still a mission." Says the guy, Jesus, Bruce. It's been one of my beloved traits of his, bleeding, battered, and almost at a loss but still moving forward. The Shadow has turned into a more of a supporting character, but he's been that voice behind Bruce's head throughout the series.
The angles, when they enter the abyss, are a trip! Each panel placement has thought. I mentioned in my last review, the abyss and the villains have been resembling images of hell. The backgrounds carry skulls of suffering, I'll place it up against this classic 1800's painting by Gustave Dore: La vision des Ossements Desséchés. Much inspiration of hellish torments and suffering came from Dante Alighieri's Inferno. This is suiting, because the Joker is one of the most demonic villains possible, and Batman is one of the most tortured heroes. Riley Rossmo has a gift of drawing desperation, it might be due to how lanky he is able to draw them, yet still having the characters hold their heroic form.
Conclusion
Overall, a good read! If you're following the tale, I'd say to keep at it! The writing is memorable, and the art is great fun to study. I'm excited for more renditions of The Batman Who Laughs, and so horror-Esque stories are my jam. I only wish this issue was as brutal as its last. I could always do with more interactions and team-ups with the Bat, so each issue is always a treat!

Images courtesy of DC Entertainment