Young Justice: Outsiders was announced last November and since then, I've been clamoring at all the news I could get. As of now, the cast is currently back in the studio, recording new episodes and I couldn't be happier. I guess I could be, if I was at SDCC earlier today.
At San Diego Comic-Con, this morning, the Young Justice panel took place. There, they unveiled a image featuring several members of the team, most of which have been re-designed with the inclusion of a couple new characters.
Take a look: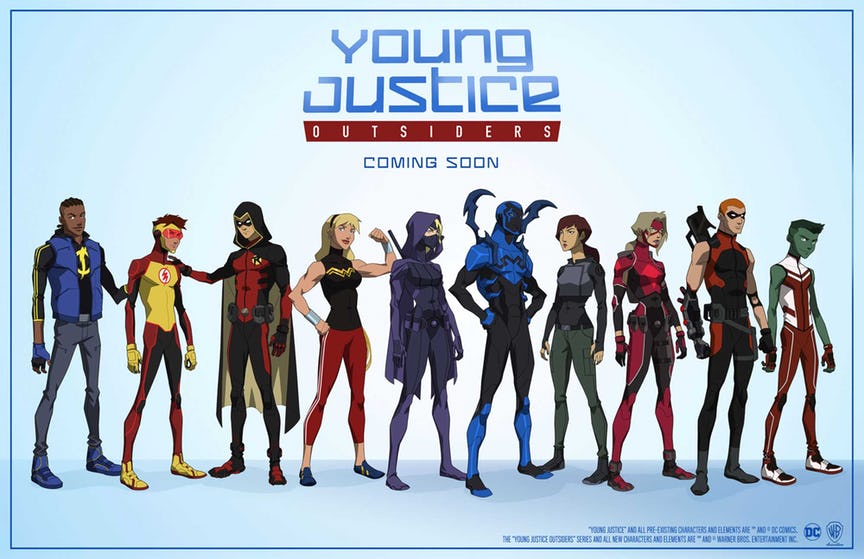 From left to right, we can see Static, Kid Flash, Robin, Wonder Girl, Spoiler, Blue Beetle, Thirteen, Arrowette, Arsenal and Beast Boy.
Overall, I'm not a huge fan of the new designs of Beast Boy and Static, but I do enjoy the new look for Kid Flash (formerly Impulse) and Robin (Tim Drake). The inclusion of Spoiler is very intriguing. I am now hoping for a very long arc for her introduction. Fans are presuming that Thirteen will be Traci Thirteen, but the folks on stage hint that she is an entirely new character.
However, it's glaring that our favorite characters from season 1 are not present, but it seems they had something extremely vague to say regarding that. Brandon Vietti, co-creator of Young Justice said, "We're telling these stories in a DC Universe, which doesn't mean that we will not see our early season character again, but it's important to show these characters in a growing DC Universe."
The comment seems to suggest that, similar to season 2, they are very interested in expanding the Young Justice DC universe. However, despite the expansion in the roster in season 2, the story was always still focused on the core members from season 1. Therefore, would it really be the same if season 3 shifted focus?
Regardless, I'm excited and simply cannot wait. Young Justice: Outsiders will premiere on DC's new streaming service sometime next year.
What do you think? Excited about the new characters and designs? Let me know.