"Red Roses," Part Three
Writers: Amanda Conner, Jimmy Palmiotti, Paul Dini
Artists: John Timms, J. Bone, Bret Blevins
(Minor spoilers ahead)
Harley Quinn takes a break from the action, and works on the family this week. In issue #23, we pick up right where we left off last issue: a reunion with Harley Sinn. No worries though, it doesn't last long, and OUR Harley gets the last word (or punch). Meanwhile, she is escorted by ol' Goatsie to a fancy yacht dinner with her parents, which ends just as the action picks up. Meanwhile, the Chief of Police has a dramatic run-in with the infamous Mayor, who "has a bad fall".
While not as exciting in summary, Harley Quinn #23 is still a fun issue. Action and fighting take a backseat to character building and story development, and that's okay. You have to plant the seeds for the story to grow. Writers Amanda Conner and Jimmy Palmiotti continue to nail each character in this oddball world, with Harley obviously leading the charge. They make her such a fun, optimistic pistol that sees the good in a crappy world. My favorite part was her philosophy on the city: "The more money gets pumped inta this city, the more personality it loses". I love her defense of the weird. There's just something absolutely charming about her portrayal in this book.
The art by John Timms continues to impress. Each panel is full of color, style and, for lack of a better description, comic bookiness. As I've said for each issue, this looks and feels like a comic book, and that's a great thing.
Paul Dini continues to show us he's Harley's real poppa in the backup "Harley Loves Joker." We're seeing how the title is playing out. Harley has left her puddin' to surprise him with a new secret layer. Meanwhile, he's trying to track her down to see what she's up to. Pretty basic. The antics are fun and the dialogue is catchy. The art continues to pull from Batman: The Animated Series which has me giving a salute to artists J. Bone and Bret Blevins. It's the backup story I never knew I needed.
Conclusion
You've heard me say it many times before and it requires repeating: Harley Quinn is one of DC's best. The book is consistently fun, funny, lighthearted and always carries a bit of sass. Hmm…just like Harley Quinn.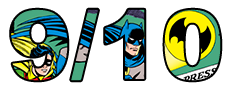 Images courtesy of DC Entertainment