Harley & Ivy, meet Betty & Veronica.
This fall, Gotham City's femme fatales are crossing the river to come face-to-face with Riverdale's ravishing ladies. Harley & Ivy Meet Betty & Veronica is a new comic book launching this fall, featuring the team up of writers Paul Dini and Marc Andreyko, with art from Laura Braga.
The project has been worked on for a bit now, with Dini's joy and excitement very apparent and obvious.
"It's the sort of offer you scream out 'YES!' to before your eyes reach the middle of the email. I've always wanted the chance to play in Riverdale, and to help Harley and Ivy invade it is a dream come true.  Marc's a great talent and a good friend. Writing this series with him has been like sitting on the lawn during summer vacation and reading a big pile of DC and Archie comics.  Except we have to stay indoors and type a lot."
Andreyko only had positive things to say about his writing partner.
"When I got the call for this, I was in disbelief! Getting to co-write with Paul on a series bringing four of the most iconic ladies in comics together under one roof for the first time? This must be what winning the lottery feels like! I cannot wait for readers to see what mischief Paul, Laura and I have dreamed up!"
Braga, known for her work on DC Bombshells, admits there's stiff competition now for her favorite female comic book character.
"It's going to be a blast to bring these amazing ladies together in this once-in-a-lifetime crossover. Each character is different and special. While Harley is one of my favorite characters ever, Betty and Veronica are giving her a run for her money! I love all these ladies, and this book is going to be non-stop fun. "
Harley & Ivy Meet Betty & Veronica is set to go on sale October 4, 2017. You can read the synopsis after the picture.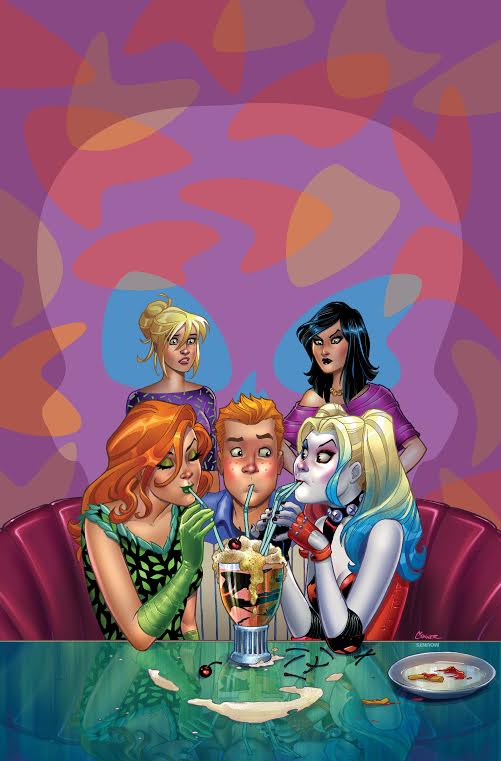 Harley & Ivy Meet Betty & Veronica starts with a plan for free college tuition for all Riverdale residents. The town just needs to build a new campus by draining the wetlands that lie between Riverdale and Gotham City.

The only snag? A certain botany-obsessed super-villain.

When Poison Ivy enlists her bestie Harley to kidnap both Veronica Lodge, daughter of Riverdale's most important citizen, and her friend Betty, she's counting on some assistance—and mayhem. Are these two teams of BFF's headed for disaster?
Image courtesy of DC Entertainment