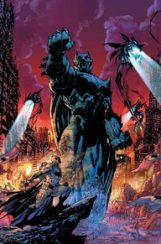 Writers: Scott Snyder, James Tynion IV
Artists: Jim Lee, Andy Kubert, John Romita Jr.
(Minor spoilers ahead)
DC's blockbuster season has finally kicked off with this week's Dark Days: The Forge #1, a prelude if you will to Scott Snyder and Greg Capullo's upcoming Metal. Here, the seeds are planted. Batman has blasted through the Earth's core, teaming up with Aquaman to save a few lives. Meanwhile, Green Lantern has been sent on a mission to Wayne Manor by the Guardians (of Oa) to discover a truth that is about to come to light. While there, ward Duke Thomas attempts to block his cave exploring. Back to the Dark Knight, he makes a moon landing to open up a special weapon, that will help him unlock ANOTHER weapon below Superman's Fortress of Solitude. Back to the Batcave, Green Lantern and Duke discover something that will have everyone saying "wtf?!". Meanwhile, the only one who may really know what's going on is Hawkman.
Dark Days: The Forge is an interesting 30-page read… and I love it. Scott Snyder and James Tynion IV have crafted an intriguing prelude to a much-hyped about upcoming series, Metal. We are exposed to so much story, worlds, and characters yet somehow, it doesn't feel overcrowded. It's also simple, in a way that anyone can jump on board. I think that's the book's biggest strength. These are two talented writers that have trimmed the fat of an interesting mystery that doesn't rely on readers to be up-to-date with everything from the New 52 through Rebirth. Though there is a little sprinkled here and there, it's never too "inside baseball" and fans should eat this up.
Perhaps a bigger draw to this book, outside of the writers, are the artists attached. DC has really stepped up to kick off their new events, bringing in their heavy hitters Jim Lee, Andy Kubert and John Romita Jr. While I was curious how the book was going to utilize three in-demand artists, they didn't disappoint. I confess I think the way each artist is used is a little confusing. Once I started reading, I thought each one was "assigned" particular stories (i.e. Kubert on Hawkman). But that quickly faded and it became a surprise as to who was on which page. Again, though, whatever. The book looks great.
So now we come to the end of the book: what does it mean?! Well, I'm not going to spoil anything for you. Feel free to discuss in our comments below, as that is a spoiler-free zone. I'm happy to share any thoughts, being that this writer too isn't sure what's happening. That doesn't keep me from wanting to find out. Come Metal #1, I'll be there upon its release.
Conclusion
Dark Days: The Forge #1 sets the stage for the highly-anticipated Metal in perfect fashion. Established worlds, great mystery and gorgeous art add up to fans throwing their wallets at DC.

Images courtesy of DC Entertainment