LEGO Batman has taken over Apple's iTunes, and it's awesome.
At midnight, The LEGO Batman Movie became available to buy on Digital HD and Apple's main page has been revamped to celebrate all things LEGO. Aside from the animated movie being available, all of the Dark Knight's live-action films are also on sale.
For $7.99 you can purchase:
Batman Begins
The Dark Knight
The Dark Knight Rises
Batman
Batman Returns
Batman Forever
Batman & Robin
And for $9.99 you can purchase:
Batman v Superman: Dawn of Justice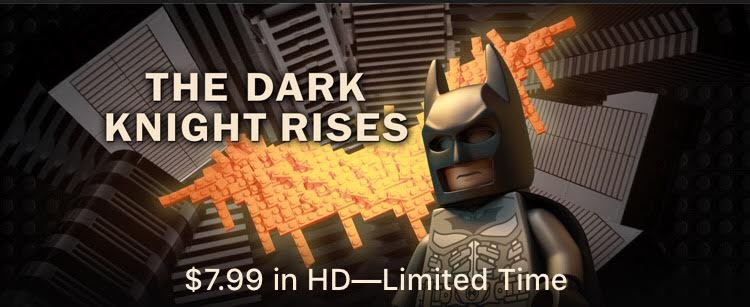 How fun is that?!
I wish Warner Bros. could release these posters for real. Surely, Bruce Wayne would buy each one and have it framed for Wayne Manor. Also, $7.99 is a good price, especially for The Dark Knight Trilogy and Batman. Those films come with a ton of well produced extras and documentaries.
As for the main event, The LEGO Batman Movie is the highest priced, running for $19.99. However, it appears to be worth it. The movie comes with audio commentary with director Chris McKay, deleted scenes, and a handful of fun featurettes.
Batman is awesome.