"The Many Arms of Death," Part 3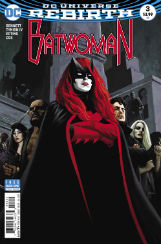 Writers: Marguerite Bennett & James Tynion IV
Artist: Steve Epting
Warning: Minor Spoilers Ahead!
My oh my… I swear this arc gets better with each issue released! It has been a grueling three weeks since I reviewed the previous issue, and I have been aching everyday for the next issue. Just like with issue #2, the wait was definitely worth it! Batwoman is easily becoming my favourite series to review. Marguerite Bennet, James Tynion IV and Steve Epting, you have my absolute gratitude for the hardwork and passion you three have clearly instilled into this series!
Alright, let's move on with the review.
Issue #3 opens up with a flashback showcasing how Batwoman's former friend, Tahani, and her missing mentor, Safiyah, took the orphan Tahani under the latter's wing. It was a brief scene and didn't really contribute much to the story, but it was nice to know a little more about Tahani's background before she became.. ugh..  Knife.
The story actually starts off with Batwoman, as her alter ego Kate Kane, walking around the lavish Kali Corporation headquarters with a plastic coffee cup in her hand. Kane ascends up a flight of stairs and finds herself greeted by the Kali Corporation's mysterious leaders. What comes next is a brilliantly executed comedic moment. The Kali Corporation is actually led by a pair of half-twin siblings named Elder and Younger. What I mean by 'half-siblings' is that the pair share the same father, but were born at the same moment, thousands of miles apart from one another. The comic then shows this panel of Batwoman's ally, Julia Pennyworth, playing bingo on a sheet of paper titled, "Creepy Twin Board" and saying "I told you!". I have to admit that was a pretty funny joke and it helps differentiate Batwoman's solo series from Batman's. While Batman's solo series are inherently dark and somber most of the time, Batwoman's series has a slightly lighter tone. Having that bingo panel as the comic's sliver of comedy was a small, but a welcome addition which conveys the series' more lighthearted tone.
As Kate Kane converses with the half-sibling CEOs, Julia makes a shocking discovery. Kate is then attacked by Knife again. Batwoman and Knife fight at the Kali Corporation's helipad. Batwoman manages to escape, with a less than subtle method of flying away on a stylized jetpack. While treating the cut Knife inflicted upon her, Batwoman informs Julia that the Kali Corporation are operating as the legitimate front of the "Many Arms of Death." Julia then informs Batwoman with even more dire news, the Kali Corporation are planning to raze the entire island with a mega-bomb! The issue ends with Batwoman and her mercenary companions cornering Knife in a cave packed to the brim with all manner of explosives.
Issue #3 has a really steady pace. It progresses at a quick pace, but it never felt rushed. I adored how Marguerite Bennett and James Tynion IV didn't overwrite the panels with an unnecessary amount of exposition. All panels served a purpose and they all flowed seamlessly together. With every issue I read I'm becoming a major Batwoman fan. The writing duo just captured her character perfectly and it's clear they tried really hard to differentiate Batwoman from Batman. Batwoman herself reaffirms that she is NOT Batman at the issue's conclusion.
Let's move onto the artwork, which is just as good as seen in the previous issues! Ohhh, Steve Epting's work on character faces is impressive! I was amazed at how detailed they were. They're certainly not photorealistic, but the character faces were significantly more detailed than other comic books I have read.
Conclusion
"The Many Arms of Death" is turning out to be an exciting story arc and is a perfect way to kick off Batwoman's solo Rebirth series. Issue #3 delivers everything I was hoping for: balanced writing, amazing artwork, excellent pacing and a great title character.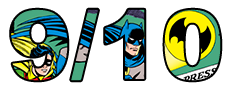 Image Courtesy of DC Entertainment