"The Button," Part 3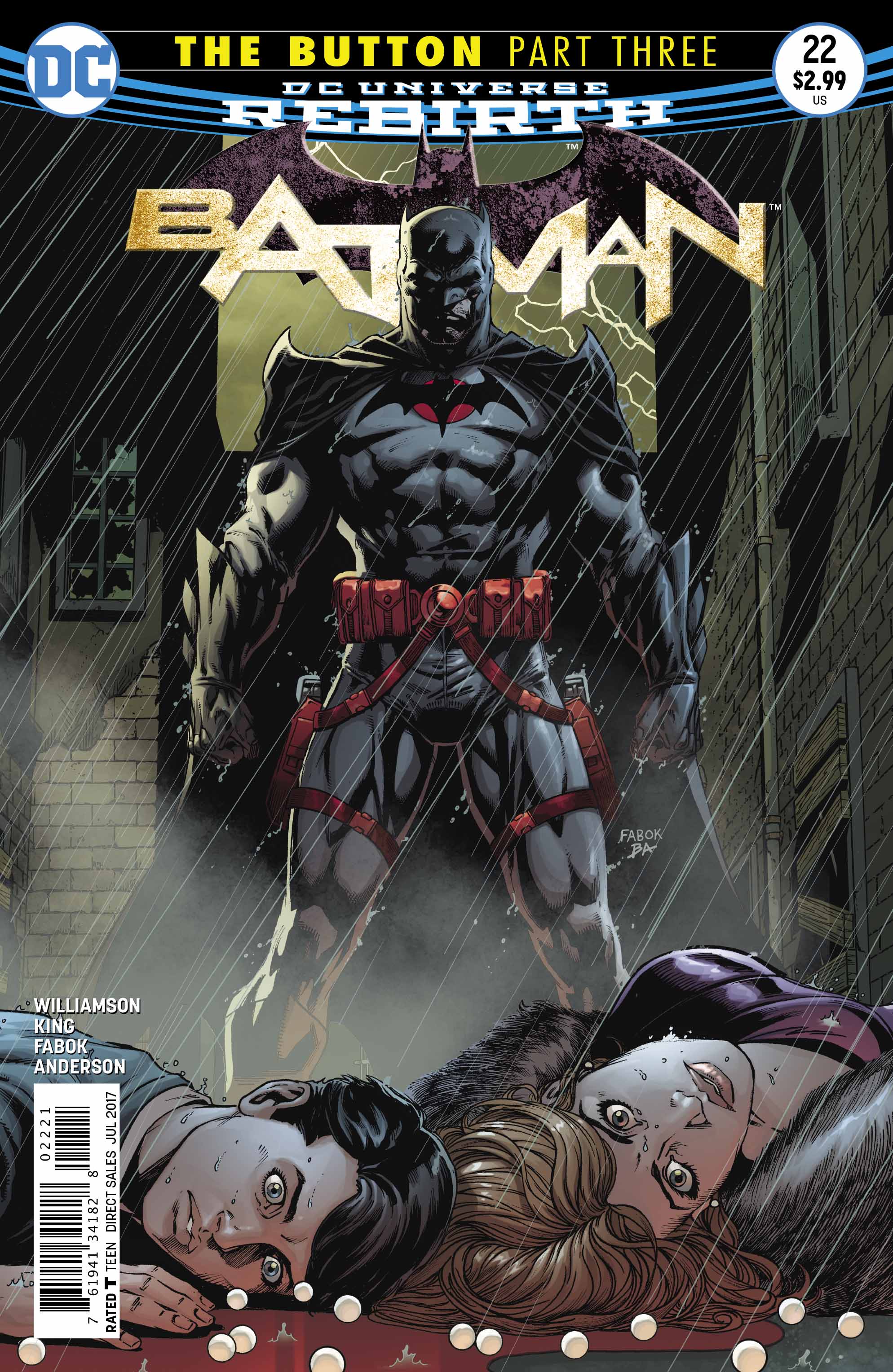 Writers: Joshua Williamson & Tom King
Artist: Jason Fabok
Now that the much-hyped "The Button" crossover is nearing the end, new questions begin to arise of the nature of the DC universe.
The third chapter suffers a little bit from being the middle of a story with no real beginning or ending. There are some new interesting questions that are raised, specifically the nature of the Flashpoint universe. However, at this point, I am more concerned with the mysteries that still have not been resolved yet. So, if readers are looking for explanations of the powerless Johnny Thunder or the time-lost Saturn Girl, they will be disappointed. It is possible that writers Tom King and Joshua are able to sufficiently wrap up every plot thread by the fourth part. But for now, the amount of unanswered questions is slightly concerning.
With that being said, the issue was not bad. In fact, it is a very good issue. We finally see the confrontation between Bruce Wayne and his father Thomas Wayne. It is emotional and heartfelt. Even better, it improves upon Thomas Wayne's character that began in the Flashpoint mini-series. This issue actually retroactively makes Flashpoint better by giving Thomas Wayne that emotional closure that he never received. Thomas Wayne also acts as an excellent foil to our Batman. The typically-pragmatic Batman acting irrational while the Flash being the logical one is an interesting dynamic. It is unclear whether we will ever see Flashpoint Batman ever again, but his interactions were definitely the highlight of the issue, if not the entire storyline.
Artist Jason Fabok nails the visuals of the comic. He has an excellent grasp on storytelling and action and his figures are detailed and energetic. Fabok even understands subtle facial acting, which is important for the emotional scenes.
Conclusion
The penultimate issue of "The Button" still offers a few surprises and great action. The lack of answers is concerning, but not enough to derail the fun and enjoyment of the storyline.

Images courtesy of DC Entertainment