"The Rise of Aqualad," Part 02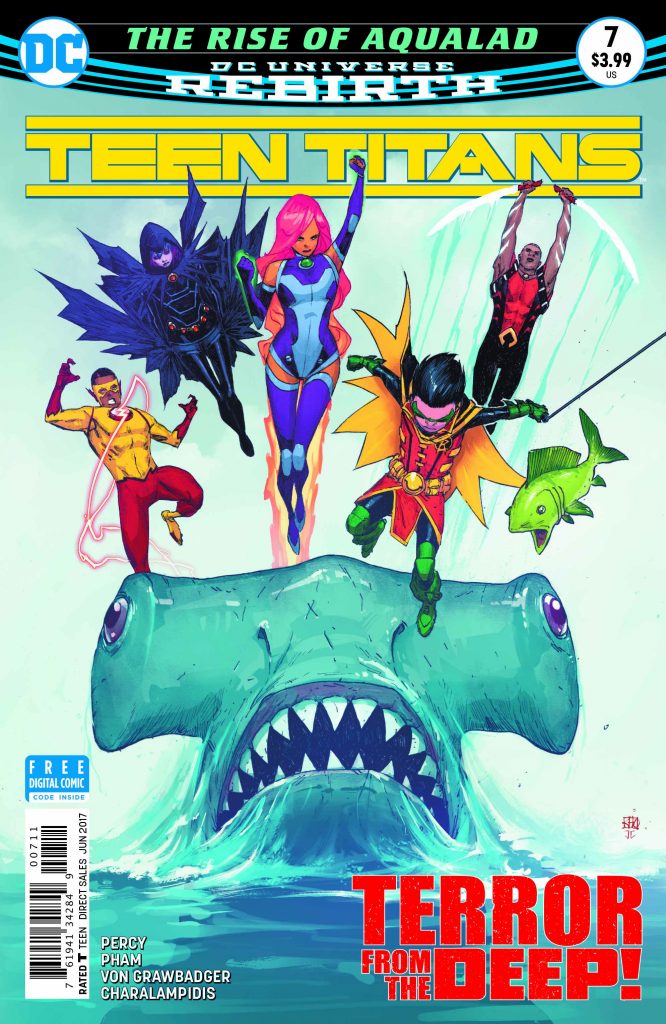 Writer: Benjamin Percy
Artist: Khoi Pham
Minor Spoilers Ahead
I would like to start this review by saying that I actually didn't read Teen Titans #6 when it came out. There wasn't any reason behind it – it's just I didn't pick it up due to having so many other books to read. But when I saw that this was part two of a two-part arc, I went back and read it immediately before this. This could be the reason why I enjoyed issue 7 so much – I got the entire story in one go and I loved it. So just in case this was the case, I went back and re-read Teen Titans #7 by itself after a short break. The conclusion: I still loved it.
Part Two of "The Rise of Aqualad" picks up immediately where Part One left off – with the Teen Titans being attacked by King Shark, and Jackson "Aqualad" Hyde looking out on the Titans Tower. While I enjoyed both parts of this story, this second part is where it truly shined. It hit all the beats it needed to in order to set up Jackson as a hero: the approaching the Titans, the rejection by Damian, the saving of Damian, the resentful acceptance into the team. And sure – while it followed these clear cut beats, it didn't feel that way. The writing came across as so effortless and real and honestly that's not the easiest thing to do in a team book – especially when you're introducing a new (and already well-known) member. But Percy manages to pull it off, and it made for an awesome read.
Art wise, I adore this issue. The team consists of Khoi Pham on pencils, Phil Hester on breakdowns, Wade Von Grawbadger on inks, Jim Charalampidis on colors, and last but not least Corey Breen on letters. Wow. Honestly the way all of these elements come together from all of these artists is amazing. What we get is a beautifully polished piece of work that really pops off the page. Looking back, I don't think there has been a single issue of any Rebirth series that has had mediocre art – but it's the unique style from Pham and co. that really make this book stand out to me.
In terms of the ending, I was sort of half-expecting it and half-surprised. Black Manta being the mastermind behind everything makes so much sense and I am kicking myself that I ruled out that possibility. It felt too obvious but also made perfect sense. Obviously, the tag at the end reads "NEXT: The Lazarus Contract!" and while this is true, it makes me wonder if Black Manta may make an appearance in this crossover. I think I say safely that he will certainly become a factor sometime after the crossover finishes up, but hey food for thought I guess. That being said, I've been sort of trying to stay away from information pertaining to "The Lazarus Contract" so I can go in fresh, so I could be completely wrong already.
Conclusion
A super-fun issue that was perfectly balanced and showed exactly what a team book needs to be. Teen Titans is definitely something to watch, and with it still being early days for the series, this particular issue promises some big things in the series' future. I can't fault it in any way.

Images courtesy of DC Entertainment