"Batwoman Begins" Part One
Writer: James Tynion, IV & Marguerite Bennett
Artist: Ben Oliver
Kate Kane takes the center stage as we get a glimpse into her first outing as Batwoman. Borrowing from the popular CW series Arrow, we are treated to flashbacks from Kate's past. Gears quickly shift to the present day, with Kate and Batman investigating a mystery with ties to Hugo Strange's Monster Men.
"BATWOMAN BEGINS" parts one and two! This special two-part interlude spotlights team leader Batwoman! In the wake of the "Night of the Monster Men," A.R.G.U.S. has built a secret research city around the corpse of the megamonster that collapsed in Gotham Harbor…creating Gotham City's newest and most dangerous neighborhood, Monstertown! – DC Comics
Full disclosure, anyone who has read any of my previous reviews knows I was not a huge fan of "Night of the Monster Men." Quite honestly, I thought it was a gimmick spread across several books to make us purchase them. This issue has piqued my interest, and made me want to go back and give the arc a second chance.
Marguerite Bennett joins James Tynion, IV on this issue. For those of you living under a rock, Bennett has an extensive portfolio of work, including writing for DC's Bombshells. She and Tynion have weaved quite the tapestry for the start of a great story. I like how they emphasize the now fractured relationship between Kate and her father. The arc is quite the segue for Bennett's upcoming Batwoman series.
Providing graphics for this issue is  Ben Oliver. Oliver is reunited with Bennett . The two worked together on Justice League #23.2 "Lobo." In "Batwoman Begins," Oliver uses an almost murky palette for this story. The style is a departure from past books in the series. The motif complements Tynion and Bennett's writing. Again, this arc is shaping up into  something special.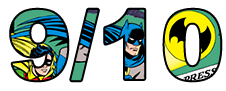 Images courtesy of DC Entertainment