"Max Lord: Rebirth"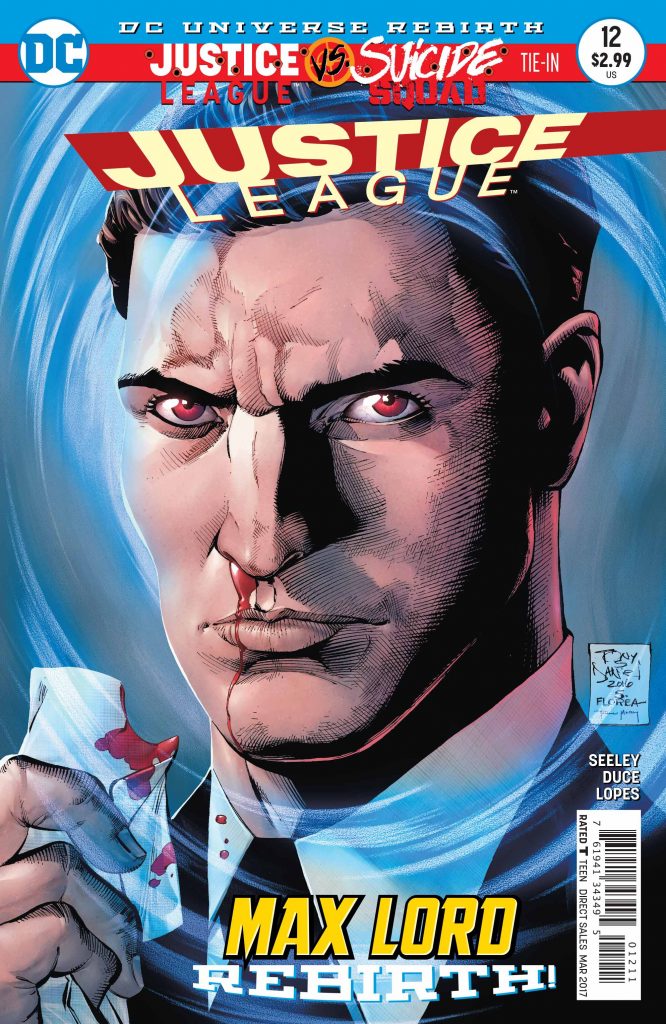 Writer: Tim Seeley
Artist: Christian Duce
So while the massive "Justice League vs. Suicide Squad" event is happening in its own miniseries, the current series of Justice League is providing some tie-in issues, and it all starts here – "Max Lord: Rebirth." Right from the start, I have to say I really enjoyed the idea of this issue: the events of it take place prior to the first issue of Justice League vs. Suicide Squad and provide an amazing insight into Maxwell Lord's past. Making it a Rebirth issue is merely an aesthetic thing, but it also provides a brilliant excuse to devote a whole issue to Lord. Brilliant.
One of the series I have been enjoying most since Rebirth began is Nightwing, which is written by Tim Seeley. I have to admit, I didn't notice his name on the cover of this issue, but the whole time I was thinking "wow, this really feels like a Nightwing-style book and I love it." So when I finally reached the final page and saw that it was in fact Tim Seeley who was responsible, I couldn't help but smile. The way he constructs characters is incredible, and seeing him tackle two powerhouses like Amanda Waller and Maxwell Lord was just a treat and a half. The pacing was excellent, the dialogue felt natural, and most of all it was entertaining as hell.
As it stands, despite this not being a real Rebirth issue, I have to say it was my favourite Rebirth issue. Apart from the writing, the art was outstanding. The interior art was consistent and detailed, but the cover of Lord is one of the best pieces of artwork I've seen in the almost year since the Rebirth initiative started. Now, if you've made it this far down the review, you've no doubt seen the score I have given this issue. I don't feel as though I need to justify it considering this is a review and is mostly personal opinion, but I will say this. Read the book. Really read it. Seeley does this marvelous thing where he uses insane amounts of subtext in his writing – more than most people really tend to look for. If you read Justice League vs. Suicide Squad #1 before and after this tie-in, it makes the story come together in a way that is really satisfying. So that is why the perfect 10 score. I have been pretty happy with most all of the Rebirth books since the launch, but this could potentially be my favourite issue so far.

Images courtesy of DC Entertainment
Save
Save
Save