Sideshow Collectibles have released pre-order details of a stunning new set titled Batman Armory With Bruce Wayne taken from Christopher Nolan's movie The Dark Knight Rises (2012). What makes it great isn't just the incredible likeness, but what it represents of the movie.
Christopher Nolan's Dark Knight trilogy created a new benchmark for the superhero movie, both in terms of commercial success and plaudits. Nolan had brought a level of respectability to the genre attracting character actors such as Christian Bale, Michael Caine, Morgan Freeman, and Liam Neeson, and created roles that, in the case of Heath Ledger, earned an Oscar.
Interestingly enough Nolan hadn't planned to make a third movie and even felt that one wasn't necessary. Despite playing with ideas after the release of The Dark Knight in 2008 he put them on hold to make Inception (2010). It meant that any reason to make a third film rested completely on the worthwhileness of the story. Music to moviegoers ears, right?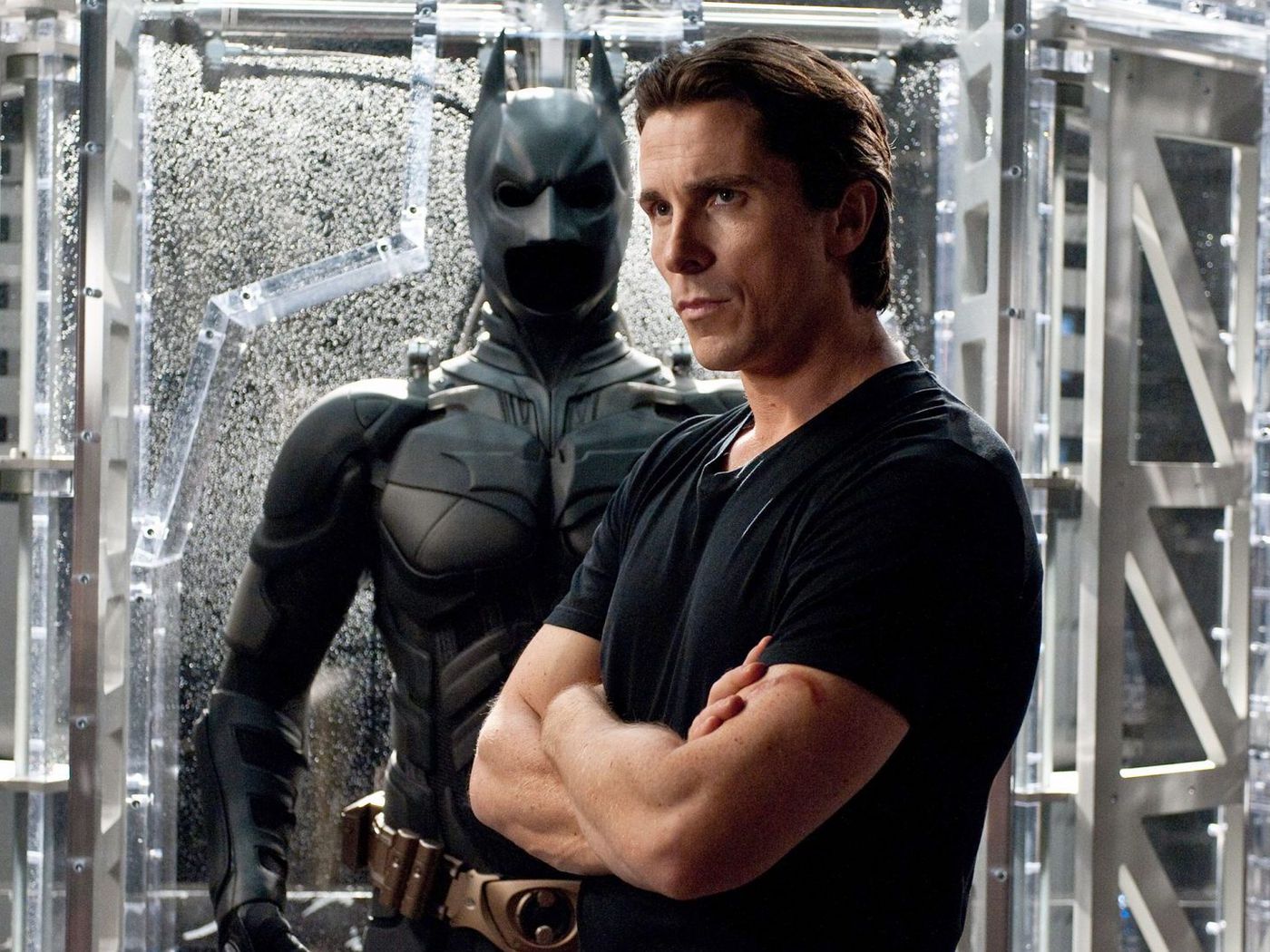 By the time he returned to those ideas the cinematic landscape of superheroes had changed. Between Batman Begins (2005) and the release of The Dark Knight the Marvel movies were up and running raising the bar for spectacular CGI-filled family entertainment. In fact, by the time The Dark Knight Rises hit cinemas, Marvel had already released five movies and they had their biggest movie yet The Avengers (2012) in the same year.
Nolan knew that with TDKR he wanted to tread new ground, hence his resistance to Warner Bros.' request that the Riddler make an appearance – Nolan wanted a villain of a different type to the Joker. He settled on Bane, brutal, physical, and super smart, and along with writer David Goyer and Jonathan Nolan (Christopher's brother), they concocted a huge story with dense plotting that took place far away from superpowers and CGI battles drawing on not one but three huge graphic novels; Batman Knightfall (1993), No Man's Land (1999) and Dark Knight Returns (1986).
There was a fourth source of influence that may suggest why TDKR feels so different from any other superhero movie at the time – Charles Dickens's novel A Tale Of Two Cities (1859), which accounts for Commissioner Gordon quoting the novel towards the end of the movie. It adds weight to Nolan's approach to the Batman universe making everything feel as grounded as possible – this is a Gotham which is very different from Tim Burton's gothic take. It also explains the dense plotting featuring multiple levels of villains, changing loyalties, and, most importantly, consequences.
TDKR felt like the first comic-based movie to effectively introduce serious consequences. Bruce Wayne starts the movie realizing the need to stop being Batman. A visit to the doctor alerts him to all the damage caused to his body and he's forced to wear a knee brace due to the injury he sustained in the previous movie. Of course, worse was to come at the hands of Bane and while Bruce was able to find a way back to recovery, he realises that he cannot sustain the physical punishment he puts his body through as Batman.
And this is where Batman Armory With Bruce Wayne finds us. With the rising threat to Gotham, Bruce is ready to return to the cowl despite the wear and tear on his body. Demonstrating the way his cybernetic brace has enhanced his knee, Bruce tries to assuage Alfred's concerns about putting himself in danger by becoming Batman. Alfred's concern is greater than immediate danger, he fears that each time he becomes Batman brings him closer to inevitable death – that putting on the cowl is akin to a death wish. "You're afraid that if I go back out there again, I'll fail," says Bruce. "No, I'm afraid that you want to," replies Alfred.
The model, at over twelve inches, shows Bruce Wayne in a defiant pose, arms folded and with a power stance. The face is unmistakably Christian Bale. It's easy to take that for granted with Hot Toys but the expression is important – he not only means business, but he's carrying the weight of concern about the journey ahead. Because there's that all-important brace on his leg reminding us of the physical cost he pays each time he puts on the cowl. We love a superhero leaping into action, but in Christopher Nolan's real-world version, it's also important to consider the heroic risk Bruce Wayne takes each time he does so.
Looming behind him is the suit. The design of the suit didn't change from the previous film, but when seen like this you don't have to wonder why they kept with a design that worked. And what a wardrobe! This one lights up and has cabinets for all his gadgets. It feels as if Nolan's design team were allowed to stray a little from the grim and gritty design brief.
Then there's the delicious headache of customization decisions. Just when you're convinced that the best display pose is with Bruce in front of the suit as in the movie, you realize that you have the option of placing Bruce's head on the Batsuit, which can be posed too. Not only that, but there are also choices of hands, and the eyeballs move, allowing you to make minor adjustments to the head. And of course, a cloth cape is included.
Hot Toys is redefining the act of owning a likeness of a film by making it feel more like you're owning a piece of the film itself. This moment reflects a core theme to the whole of Christopher Nolan's Dark Knight Trilogy. While brightly-colored Marvel superheroes were saving the city from invaders from above, Batman was rising out of the cellars, forming an army to defeat an enemy that was already inside Gotham. He was not only without power, but his body was broken and falling apart – he was nothing like a superhero. But he had his will and he had the suit, a suit that wasn't just a symbol to be feared, or a weapon in itself, but it was holding him together – for one more mission.
Batman Armory With Bruce Wayne is available to pre-order from Sideshow Collectibles here.
Product details:
The Batman Armory Sixth Scale Accessory features:
Authentically detailed likeness of Batman Armory in The Dark Knight Rises
Highly-accurate design with wire details, weapons, and Bat gadgets
One (1) pair of movable translucent armory doors with dew texture imposing the cave environment
Six (6) units of pull-out cabinets
LED-light-up design on armory ceiling with remote control (power operated)
Approximately 24.5 – 38cm L x 11cm W x 43cm H
Armory base includes movie logo and nameplate
Weapons:
Four (4) Batarangs
Two (2) grapnel guns
Three (3) ninja spikes
Accessories:
 One (1) antidote injector
One (1) drill
One (1) set of drill bits
One (1) big hook with wire
Five (5) sets of ammo in different sizes
Six (6) pouches
The Batman Sixth Scale Figure features:
Authentic and detailed likeness of Christian Bale as Batman in The Dark Knight Rises
One (1) newly developed Batman cowled head with separate rolling eyeballs
Highly-detailed painting application
Approximately 31 cm tall
Eight (8) pieces of newly crafted interchangeable gloved hands including:

One (1) pair of fists
One (1) pair of relaxed hands
One (1) pair of grapnel-gun holding hands
One (1) open left hand
One (1) batarang-holding right hand
Costume:
One (1) Batman suit featuring fabric material covered with armor
One (1) black colored fabric cape
One (1) metallic gold colored utility belt with buckle and accessories
One (1) pair of forearm gauntlets
One (1) pair of colored black boots
Accessories:
One (1) batman cowl
One (1) Batman suit collar
The Bruce Wayne Sixth Scale Figure features:
Authentic and detailed likeness of Christian Bale as Bruce Wayne in a casual look in The Dark Knight Rises
One (1) newly developed head sculpt with separate rolling eyeballs
Movie-accurate facial features with detailed wrinkles and skin texture
Approximately 30.5 cm tall
Standing posture with arms crossed in front of chest (Non-articulated figure)
Muscle texture
Each piece of head sculpt is specially hand-painted
Costume:
One (1) black shirt
One (1) pair of black pants
One (1) pair of black shoes
One (1) knee brace
Accessory:
Figure stand with movie logo and nameplate
Artist:
Head Sculpted by Viva
Head Art Directed by Viva
* Light-up function operated using USB power
* USB connecting cable is not included for the collectible, a USB-C cable is required
Images and press release courtesy of Sideshow Collectibles