"Who Killed Harley Quinn?" – Part Six
Writer: Stephanie Phillips
Artists: Matteo Lolli and David Baldeon
Color Artist: Rain Beredo
Letterer: Andworld Design 
Harley Quinn #27 comes to us this month, bringing with it closures and discoveries. Some of the best things come before devouring the main course, though. Harley Quinn fans are positively spoiled with this issue because there are so many choice variant covers and each of them boasts a myriad of treats for the eyes to behold. Readers are treated to six covers to choose from to wrap the fascinating arc this has been. Whether luscious in latex or hyper-realistic art is your thing, there's some truly lovely cover art to choose from to add to your collection. 
So, let's dive into the conclusion of "Who Killed Harley Quinn?" 
A Chorus Of Mine
Harley Quinn #27 opens with the queen of chaos reminiscing in a beautiful, sometimes hilarious, set of panels. All the plot points are explained but one eludes both readers and Harley at this point, a resolution. When last we left our troupe, all the alternate Harleys had been gathered up as bait to bring in The Harley Who Laughs, but the villain had the ace, she had Ivy. The question of just whose Ivy remained unclear, but if there's one thing Harley does know above anything else, it's herself and the reason why she would make the choices that end in the pain that is The Harley Who Laughs. The answer's the same as what's on the line… Ivy.
Harley tells the gang that, rather than do the normal fighting it out, she wants to heal the villain by giving her back what was heartlessly stolen from her. So, breaking the 4th wall our Harls, Old Lady Harley, and The Harley Who Laughs travel to the villain's world, to find and get her Ivy back. The question remains whether that's even possible when having to face endless henchmen just dying to play with new friends.
Hello Love
While there are many aspects of how this arc's twisted, built, and turned, I can't say that I'm upset with the solution chosen. This issue brings empathy, humor, and what Harley's core is, at this moment in time. What her home is, solidifying what readers have known for quite some time shows a relatable truth, that knowing that your home truly is where the heart is. It doesn't have to be a place with four walls, decor, furniture, and a foundation.  Having that person who provides safety and love in every fiber of our true self… isn't that the home everyone craves? What a delightful re-embrace of a concept that's so vital to humanity, real or fictionalized.
This could all have come off as corny or as an easy avenue out, given the epic build and lure this story has had, but the writing and the art belay that there's more at work.  There are SO many beautiful and even tender, bittersweet moments. My favorites feature Zsasz as Harley's Watson because there's charm and such quiet humor there. 
Conclusion
Harley Quinn #27 does give answers, but one big question remains… where's Ivy? This is a thread that hasn't been answered in this issue. That seems remiss in every facet, particularly given how much impact she has in this arc's conclusion. I'm crossing my fingers that this specific question will be answered in Harley Quinn #28!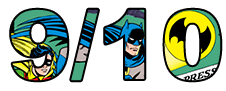 Images Courtesy Of DC Entertainment