"Whatever happened to the Justice Society of America?"
Writer: Geoff Johns
Artist: Mikel Janín
Color Artist: Jordie Bellaire
Letterer: Rob Leigh
Review by Davydh Tidey
Geoff Johns has to be the most celebrated Justice Society of America writer of the modern age. He redefined the way we saw the JSA in the early 2000s, introducing new blood to the series and revamping DC's original superteam into a modern force for good and he's even responsible for their most recent return, until now, to the DC universe in Doomsday Clock. It's safe to say, Johns is probably the name you most likely associate with the JSA. 
Well, joined by artist Mikel Janín and colorist Jordie Bellaire, he's back to do it all over again 20 years later.
Timewarp
Justice Society of America #1 pulls no punches. It throws you straight into the action, introducing you to a future version of the JSA made up largely of former villains led by the Huntress and Power Girl. This book seems to be following the pre-crisis version of Huntress, who is the future daughter of Bruce and Selina from Earth-2, not the most recent version of the character. I wonder how this fits into continuity… 
Not to worry, though, the original JSA will be making their appearance in this series as well, the spectacular ending pretty much guarantees that. 
Triumphant Return
Johns brings his solid storytelling back to the JSA, and I'll tell you what, he's been sorely missed. This story seems to be setting out with an epic scope, making time part of its narrative, and weaving a cohesive story over multiple points. You'll find out why it's part of its narrative very quickly… 
Janín and Bellaire are a great match, with Bellaire bringing a much different style to Janín's work than we've seen from him before. It doesn't look the same as his work on Tom King's Batman or Jeff Lemire's Justice League Dark, and I for one am loving this newer style. There's a particular shot of Red Lantern II (WHO?! Read to find out!) in the fog that looks absolutely amazing. 
Conclusion
The Justice Society of America has been in limbo for a very, very, VERY long time, and we knew their return would need to be something special. Well, thankfully, Johns, Janín, and Bellaire have delivered in a big way, giving us a story that not even the passage of time can contain.
Please check out Kendra Hale's take on this classic issue too.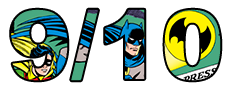 Images Courtesy of DC Entertainment