"Castle Arkham", "The Pennyworth Files" – Chapter Three, "Out of The Frying Pan", "My Son", and "The Murder Club"
Writers: Jim Zub, Chris Burnham, Nadia Shammas, and Joey Esposito
Artists: Max Dunbar, Jahnoy Lindsay, and Vasco Georgiev
Color Artists: Romulo Fajardo Jr., Nathan Fairbairn, and Alex Guimarães
Letterers: Joshua Reed, Rus Wooton, Becca Carey, and Carlos M. Mangual
Review by James Attias
What light through yonder window breaks? It is the east, and Batman: Urban Legends #20 Is the sun! Alas, poor Batman, I knew him well! Out, damn issue! Out, I Say! For those of you who didn't study drama, those were lines(ish) from Shakespeare. This issue has Batman as a knight… need I Say more?
"On Haunted Wings"
If you couldn't tell from the introduction, I really enjoyed this issue. This story had us in a castle realm, monster cult-style Arkham (not Gotham) City. Where Batman's an armor-wearing detective Knight who battles hellish laughing cult demons. This story's a mix of Gotham by Gaslight and Dark Knights of Steel. It's not set in the dark ages or in the recent past, it exists in its own time and world, which gives it a lot of freedom with the characters.
I, for one, love the creativity and playfulness in both the writing and the art. The monsters Batman's fighting clearly resemble the Joke, but this iteration of the Dark Knight, raised by a bat-themed cult of monster hunters, hasn't met this version of the clown prince of crime just yet. This means that the mystery and detective work following these beasts and their strange toxin is really fun to read.
It did make me chuckle how the characters' names were adjusted to fit the time, Commander Gordon St. James, and Professor Kirkland Langstrom. The part that really made me smile, though, was Bruce Wayne was still… Bruce Wayne. The more things change, am I right?
If you like Elseworlds style stories and you're partial to Batman fighting Dragons and Monsters with a sword and Bat armor, you're not going to want to miss this gem! It may be the start of something big.
"The Pennyworth Files", Chapter Three: "Out of The Frying Pan"
In previous reviews, I've made little effort to hide that I've been slightly underwhelmed by this story and the idea of Alfred getting himself into precarious predicaments with Fish people and gangs. The finale, however, has won me over. They pulled it out of the bag. I wasn't expecting the payoff and dialogue of this final part to be as entertaining as it was. Alfred's written perfectly with the sharp butler wit he's famous for, as well as having a warm friendly yet feisty-ness to him.
I was worried that when the reveals started hitting that I was going to be exposed to some very questionable creative decisions… but shut my mouth and call me Batman, they pulled this one out of the bag. I'm a particular fan of a new character who was introduced in this chapter, a security guard who reveals a fun little detail about Alfred as well as aiding the Bat-Butler in his quest.
As a whole, I really enjoyed this story. It took a while to win me over but in the end, it was as good as a perfect cup of Alfred's Tea!
"My Son"
Damian Wayne's a character that people love to hate, and people also hate to love him. I myself have enjoyed watching Bruce and Talia's son evolve from junior assassin to the young man he is today. This story shows us that he's still human, and vulnerable. We find him in critical condition after a mission goes wrong and we see Talia, as well as a small army of Ninjas, come to assess her son's condition. Bruce, who seems to be in shock after his son's predicament, is forced to hold Talia at bay and not let her take him away to a Lazarus pit or away forever.
Over the course of the story, we see Bruce and Talia fighting and are treated to some of the harshest words to ever be thrown at the dark knight. He's going to need Mr. Freeze to treat some of the burns Talia throws his way. The art wonderfully shows the pain Bruce feels when he's both fighting and receiving a verbal beating from the mother of his son.
This story was a great read as it will hit anyone who has a complicated relationship with their parents pretty hard.
"The Murder Club"
This story caught me off guard as it felt like it could headline the main Batman title. A Mysterious organization that's murdering Gotham's elite might seem very Court of Owls or Black Glove so, after some dream-like flashbacks/memories/nightmares, We're back with Batman and Gordon accessing a murder scene. This is vintage Batman: Detective work, and a great back-and-forth between the two characters made this a delight to read. The art in this story was superb and the writing really takes you on a journey through Gotham. I don't want to give anything away but the last page of this story is surely going to have major ramifications for the Dark Knight, moving forward.
Conclusion
Batman: Urban Legends #20 is one of the best issues of the series. It's really found its groove with a balance of weird, funny, dark, and intriguing. There's something for every reader here, so I highly recommend you jump in the batmobile speed to your local comic shop and pick up this issue ASAP!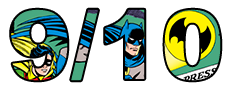 Images Courtesy of DC Entertainment