Sideshow Collectibles and artist Dave Wilkins proudly present a brand new fine art print inspired by the classic story Batman: The Dark Knight Returns.
Classic stuff
It's impossible to overstate the importance of Frank Miller and his edgy, violent look at Batman grown old in The Dark Knight Returns. I was only three when it debuted as a four-issue miniseries in 1986, but much like the reigns of Reagan and Thatcher, I am forced to admit, for good and ill, that it shaped the world I now inhabit as a somewhat mature adult.
The tale was when heroic cynicism, the decline of our idols, bone-breaking realism, and everything grim 'n gritty first took hold with a Batman embarrassed to admit he had to use his legs to climb a rope. Now collectors can reflect on a world gone bad from their very own living rooms with this beautiful new fine art print inspired by the comics classic.
Batman: The Dark Knight Returns
A dramatic DC Comics art print by artist Dave Wilkins after Frank Miller.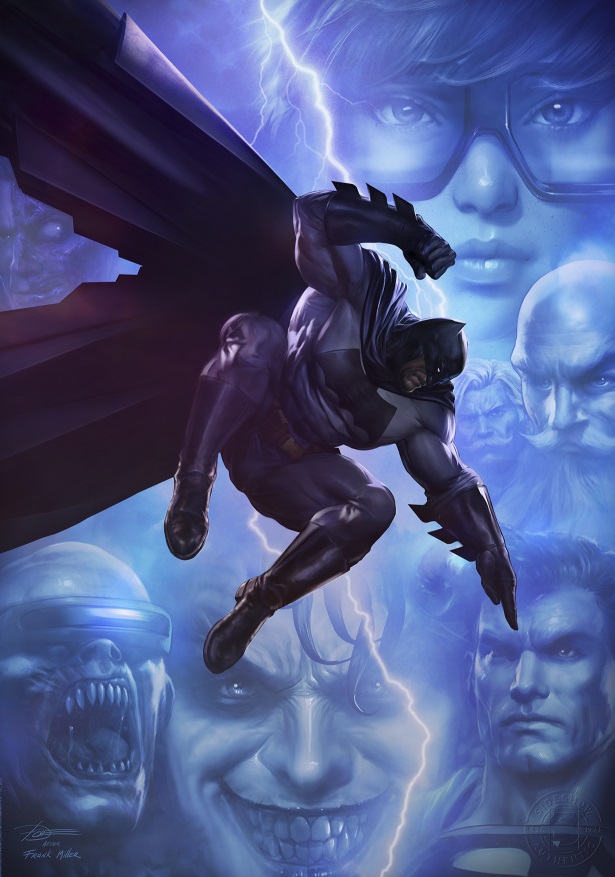 Drawing inspiration from the iconic cover of Frank Miller's The Dark Knight Returns, artist Dave Wilkins captures Bruce Wayne's descent into a lawless Gotham. In the absence of its Caped Crusader, the city has fallen to ruin beneath villains and gangs running unchecked.
This moody composition features familiar faces of both friends and foes as Batman returns to the unending fight, illuminated by a single bolt of lightning. Two-Face, Robin (Carrie Kelley), Commissioner Gordon, Green Arrow, the Mutant Leader, The Joker, and Superman can be seen as symbols of the reasons, both good and bad, that inspire the Dark Knight to stand against crime once again.
Each The Dark Knight Returns Fine Art Print features an authorized, automated artist signature and an embossed Seal of Authenticity as a part of the limited edition of 400 pieces.
The piece is available unframed or in a custom framed presentation. This Batman wall art is a must-have for fans looking to pay tribute to a celebrated DC Comics story.
Let's ride – bring justice back to Gotham and add The Dark Knight Returns Fine Art Print by Dave Wilkins to your collection today.
Images and press release courtesy of Sideshow Collectibles