"Fear State: Aftermath – Out and Gone" and "Foundations" – Finale
Writers: Mariko Tamaki and Stephanie Phillips
Artists: Dan Mora and David Lapham
Color Artists: Jordie Bellaire and Trish Mulvihill
Letterers: Aditya Bidikar and Rob Leigh
Review by James Attias
What happens after a huge disaster? A quiet calm before the next one? Aftershock? In Detective Comics #1046 we see Gotham trying to reset after the "Fear State". Can Gotham ever recover? Will Batman ever return to the City he swore to protect? Read on and find out!
We Can But Hope
The "Fear State" is over, Batman's on the verge of leaving Gotham City (See Batman #118) and no one really knows how to act. This issue, which has one of the most glorious covers I've seen in a long time, tries to show us that life goes on. Criminals are going to commit crimes, Gothamites are going Christmas shopping. Things seem to be back to the normal amount of crazy, rather than the usual that's been dialed up to 11!
We then get to peek inside Mayor Nakano's office for a meeting with Dr. Chase Meridian, who will be his eyes and ears inside the new Arkham Tower. Now I know what you're thinking, The new asylum's going to be chaos, the mayor is up to no good, and Dr. Meridian will betray the good guys or die. I thought the same thing whilst reading this issue, as well as every other issue that mentions Arkham Tower… BUT. The way this issue was written, the way everything seems now, including the second story, which I will touch upon later, makes me feel hope for Gotham City. An honest Mayor, a new facility for the criminally insane, and the strongest the Bat-Family has ever been. I don't know about you, fellow Bat-fans, but whilst reading the last Detective Comics issue of 2021, I dared to let myself believe there's hope for Gotham yet.
A standing ovation must go to Mariko Tamaki and Dan Mora, two of my favorite people this year. Stunning art, on every page, I'm not sure when we"ll see you again on Detective Comics Mr. Mora, but I've loved every panel you've done whilst you've been on it! The writing just reads beautifully, and so naturally. Nothing makes me grumble more than when a character who has been around for 80 years does or says something out of character. Mariko Tamaki's never written a word that wasn't spot-on accurate for these wonderful caped heroes and villains! For this I thank you. Can't wait to read what you write next.
Tower Of Babel/Towering Inferno… NO… Insert Arkham Tower Pun Here
Harley Quinn and Batman are both feeling the after-effects from Hugo Strange's tenure in the now Arkham Tower. A little chemical compound, a bit of fear toxin and we're all over the place. The real story. though. is brought about by making us see what it must have been like for mentally ill people sharing an Asylum with Metahumans, murderers, and dealing with constant riots and break-outs. This story shows us that Arkham was a problem, so the new tower has to be something different. For the people of Gotham, the inmates, the staff, and Batman himself. The ending of this story really resonated with me, giving me, and hopefully all you readers out there, some hope for the future.
Conclusion
Wow… the last issue of Detective Comics of 2021, what a year it's been! I hope you've all enjoyed the books, and my reviews, as of the first 12 weeks of next year; DC's oldest series is going weekly! So, be sure to keep reading and enjoying one of the milestone titles of comic book history. After a thousand plus issues, I'm still hooked, and Detective Comics #1046 is the end of one road and the first step along the next!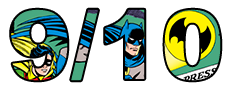 Images Courtesy of DC Entertainment