"Happily Never After!"
Writer: Joshua Williamson
Artist: Howard Porter
Color Artist: Hi-Fi
Letterer: Steve Wands

Review by Lauren Fiske
I don't think many people would characterize Deathstroke as a knight in shining armor, but that's exactly the role he takes on, in Deathstroke Inc. #3! In this issue, the anti-hero and Black Canary peel back more layers of the onion. There's still plenty left to see from this series, however, and I'm stoked to see where the characters are headed. Spoilers beware and make sure you read previous reviews of Deathstroke Inc. if you want to stay up to date!
Bad Kitty!
The issue starts with some of the most beautiful pages I've ever seen in a comic (although we'll get into that more a bit later). Deathstroke and Black Canary are on the scene, attempting to capture the fascinating villain Queen of Fables. This antagonist is unique and definitely reminds me of the creative drag queens of the world. The villain uses her powers to create fantasy worlds for whoever requests them, as long they write these ideas down. Her most recent customer is Cheetah, the notorious villain from Wonder Woman. Deathstroke and Black Canary are originally on their mission in order to capture the elusive feline-fatale, but within a few short frames, however, they capture the Queen of Fables and Deathstroke gets pulled into Cheetah's "Utopia".
The two heroes' storylines split from this point, and for the rest of the issue. Deathstroke proceeds through Cheetah's fantasy world, Che-Terra, while Black Canary returns to T.R.U.S.T. headquarters to discuss history with head-honcho, Juliette Ballantine.
Slade passes into Cheetah's paradise in a blaze of multi-colored words (my favorite frame of the series yet!), and immediately realizes he's undergone huge changes to transfer his essence into the fictional world. Deathstroke immediately feels out of place in the overly saturated atmosphere, but quickly mounts a unicorn steed and heads into battle in shining armor.
Don't Know Much About History
I'm no expert on DC heroes, by any stretch of the imagination. I had to do my own research to understand many of the characters that were referenced. First, Slade laughs to himself as he rides through the hills of Che-Terra. He also mentions that "Rose" would think the juxtaposition of former villain Deathstroke and the backdrop of rainbow valleys was hilarious. A quick search revealed that "Rose" in fact refers to the anti-hero's daughter, AKA Ravager. The character's only mentioned briefly, but I anticipate that she will make an appearance in a later issue, particularly because the series seems to be aiming at humanizing the dastardly Deathstroke.
I dug into Black Canary's history as well, after Ballantine mentioned the current iteration's mother. The current Black Canary who fights alongside Deathstroke in our series is Dinah Lance. Her mother was Dinah Drake, the previous bearer of the Black Canary mantle. Dinah Sr. is shown in a portrait with other previous Justice League heroes in this issue. Although I failed to recognize many, the depictions are clear and a more knowledgeable reader could likely name them. Dinah Jr. is clearly her mother's daughter in terms of looks, heroism, and superhero identity. I believe that the history of Black Canary will be relevant again in later issues, although we'll see how that turns out.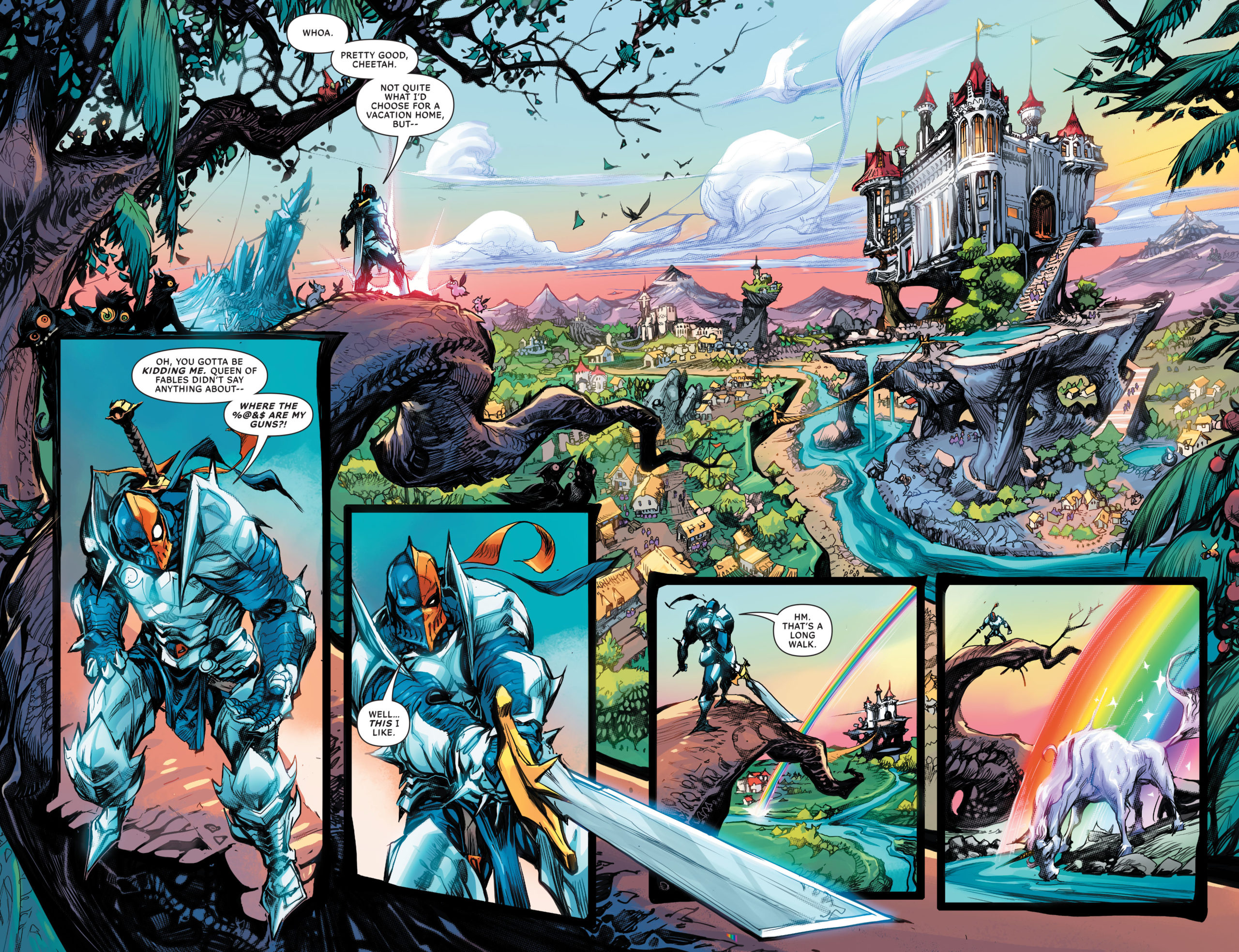 I also have no idea who Libra is, but Black Canary clearly does. What does this new threat entail? How much trouble are our heroes in (other than an impending face-off between Deathstroke and Black Canary)?
Butterflies and Rainbows
If last issue was a space odyssey with the celebrated colors of the bisexual pride flag, this one is a fantasy epi, imbued with the gay and pansexual pride flags! What a gorgeous issue! The colors were a teensy bit nauseating at times because they were so bright and extreme, but this issue's just dazzling.
Not only are the colors incredibly romantic and idyllic, but the art is too. Instead of his usual armor and guns, Deathstroke's mostly depicted in his painted knight's armor with a long, dark sword. Although it's a bit odd to see Slade Wilson in this light, I find it really goes with his new direction and motivations.
I could talk about the art in this issue for a very long time. Even the scenes outside of Cheetah's fantasy are stunning. The final page of Deathstroke Inc. #3 shows Black Canary on her mad dash through the rain with a super-imposed image of Deathstroke in the clouds. The writers and artists in this series are clearly working super close together and the results are fantastic. While I look forward in each issue to learn more about T.R.U.S.T. and the mysteries surrounding our heroes, I'm equally enthused every time to see what new art and colors will be displayed.
Conclusion
Deathstroke Inc. #3 is everything you could want it to be. Vibrant colors, immense beauty, and riveting storytelling abound. I know I always have nice things to say about this series, but that's because it really is astounding. I haven't read too many comics that keep me on the edge of my seat, issue after issue. Most, digital or physical, are only winners in my book in a category or two. Deathstroke Inc. is mesmerizing across the board.
My few complaints with this issue are really only limited to the length of the story! The intrigue's always increasing and the art just keeps getting better. I'm especially pleased that none of the issues have been as terrifying as the first one (remember those bees?) because I thought I was going to have a hard time reviewing this book! Even the terrifying aspects of Deathstroke have been entertaining, though and I'm excited for the direction readers are being taken in.

Images Courtesy of DC Entertainment