"Disinformation Campaign", "Little Pyg, Little Pyg, "Dark Knight of the Soul",  and "The Fearful"
Writers: Brandon Thomas, Dan Watters, Christian Ward, Alyssa Wong
Artists: Vasco Georgiev, Cian Tormey, Nikola Cizmesija, Christian Ward
Color Artists: Ivan Plascencia, Christian Ward, Alejandro Sanchez, Rain Beredo
Letterers: Steve Wands, Becca Carey, Ariana Maher
WARNING! The preview art contains HUGE Spoilers for Batman: Urban Legends #8!
Review by Carl Bryan
Batman: Urban Legends #8 provides:
Batwoman: FEAR STATE TIE-IN! Someone has hacked into the Oracle Network and has started spreading information around Gotham: Batman is dead, Cassandra Cain/Batgirl is a killer, Fear Toxin is in the air. Which stories are true and which is false? Batwoman will find out with the help of Commissioner Renee Montoya and… Kate's sister Beth, AKA Red Alice?!
Outsiders: FEAR STATE TIE-IN! Scarecrow has stirred Gotham City into a panic and it's awakened one of the first students he experimented on, a man turned into a monster known as THE FEARFUL! The Outsiders will have to reunite with the Signal in order to stop the Fearful and keep the city at peace. But a message from the world of FUTURE STATE reaches the Signal and changes everything.
Azrael: Azrael, the last acolyte of the Order of St. Dumas, has returned to the streets of Gotham City after serving with the Justice League in the stars. He's convinced he's strayed too far from his purpose, too far from his teachings, and needs to reassert himself. But he'll be met with a city that's changed forever, a city that will shake his faith.
Professor Pyg: Just in time for Halloween, a tale of Super Hero horror from fan-favorite creator Christian Ward, writing and drawing a story of Batman hunting down Professor Pyg in order to find the victim of a kidnapping. Batman will dig back into his memories of youth to track down Pyg and save a child's life.
Disinformation Campaign
Finally, Kate Kane's back as Batwoman. It's been utterly fascinating to catch up with Beth Kane again and see how her struggle's unfolding. Alyssa Wong captures a lot of complexity in two different dualities in this narrative (Kate-Beth and Beth-Alice). There's even a nod to the complexity of the relationship between Renee Montoya and Kate.
Georgiev's realistic art meshes well with the story, and the images of Red Alice in various reflections are both frightening and thrilling. I would have liked to have seen more conversation between Cass and Kate (because who wouldn't?), but this is a fascinating, lively story with an excellent balance of dialogue, character development, and action. As someone who thinks some of the Urban Legends stories have been far too long, I'm pleased to see DC limit this entry to two chapters and am excited about the finale.
Little Pyg, Little Pyg
It's a creepy story in line with  Halloween (and of course the choice of Professor Pyg also reflects the season). It's reasonably effective for what it is, although why is Batman adamantly interrogating the Mad Hatter and Penguin for information regarding Pyg.
Dark Knight of the Soul
I'm not the biggest Azrael fan at all, however, his rejection of the extremes pushed by the Order of St. Dumas makes him more "likable" as a distant cousin of the Bat-Family. Like Red Hood, he doesn't share Batman's aversion to killing, which creates some of the usual interesting tension between the Dark Knight and the members of the Bat-Family/Allies more willing to end lives. At times the story drags a bit, but for those that enjoy a visit with Azrael, this suffices.
The Fearful
Brandon Thomas is an excellent writer, and this entry feels much like the first chapter in "The Caretaker" in the sense that readers are just plunged into the middle of an ongoing narrative that may not be familiar to readers who are unaware of the Outsiders' current activities in continuity.
Although I dislike this approach because I don't think it accommodates potentially new readers, though I'm willing to give Thomas the benefit of the doubt and see how this develops. Tim Drake is a fan favorite Robin, and it's exciting to see him jump in to assist the Outsiders in countering "Fear State". The tie-in to Fear State is also reasonably well-done, although the addition of Future State continuity complicates the narrative, for me.
Conclusion
Batman: Urban Legends #8 continues to be quite the playground for all things Batman-related.  I must admit that all this "Future State" and "Fear State" hopping around has become a bit tiresome as I expect comics like this to have some "sand' that fills in the main stories in the pillar books. However, three of the four stories really piqued my interest. Admittedly, I am not a Pyg fan… however, if you put him in the pages of Spawn, well… you may have something there!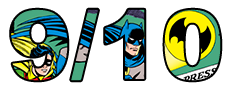 Images Courtesy of DC Entertainment