A brand new Arkham Asylum immersive experience is set to open in London next year. Based on the famous fictional institution from the Batman series (which also spawned a series of successful computer games) – the experience has been created by Department Studios, Myriad Entertainment and Warner Bros Themed Entertainment, in association with DC.
Batman is missing and Gotham City is in tatters. Crime is running rampant in the streets and civil unrest is festering around every corner. Step forward ambitious psychiatrist Jeremiah Arkham who wants to restore order through his pioneering treatments.  The citizens of Gotham City are being summoned by law to the Arkham Asylum for psychological examination.
Set in a vast multi-sensory recreation of the eponymous psychiatric hospital from DC lore, Arkham Asylum will provide audiences with an epic alternate reality, combining futuristic technology and interactive theatrics with a wholly original story to create a chilling, once-in-a-lifetime, live immersive experience.
Interaction is rewarded, from heightened clues and tasks prior to arrival to unlocking new spaces, characters, and storylines within.  The audience becomes the protagonist: first as citizens of Gotham City, then as patients on their own journey to escape the infamous Arkham Asylum and explore the world of Batman like never before, alongside iconic DC characters including Scarecrow, Catwoman, Poison Ivy, and many more.
Jessica Rees Middleton, CEO, Department Studios, Inc. said: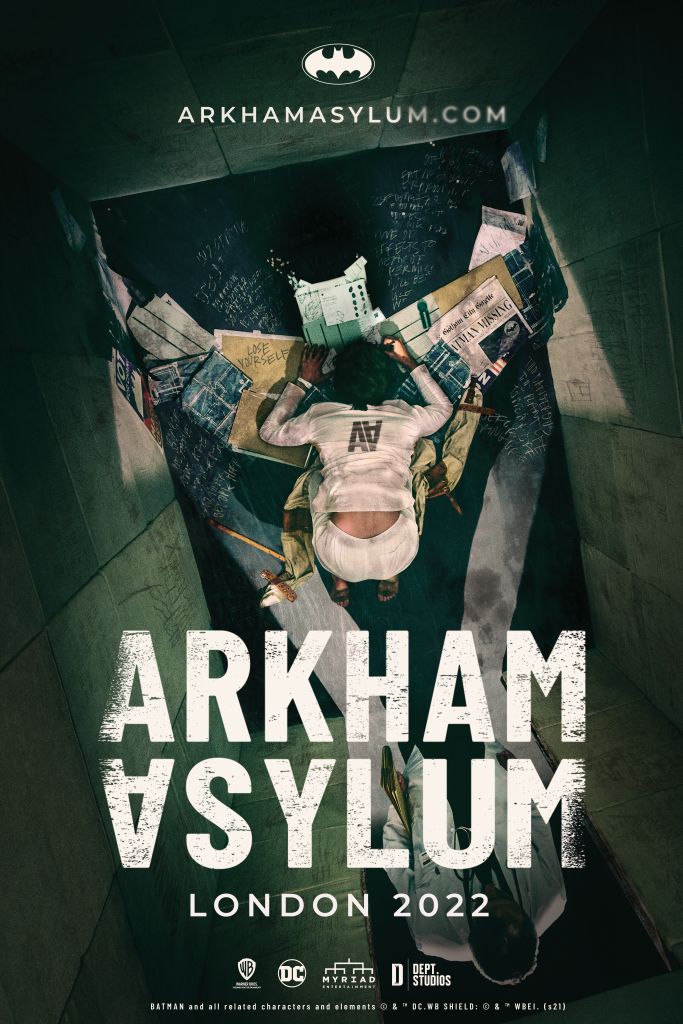 There's nowhere else in the world where you can experience Gotham City in this way. From the moment you buy a ticket, through the DC characters you'll meet, and choices you will make – each guest will leave this spectacular experience transformed and eager to come back! We plan to propel immersive entertainment to a new level.
Jonny Grant, CCO, Department Studios, Inc. comments:
Arkham Asylum fuses interactive theatre and new technologies to create mind-blowing moments in an exhilarating world.  Participate in the theatre, interact with incredible innovations, play a rather thrilling game… but can you actually escape… do you even want to?
Director Simon Evans (Staged) explains:
Myriad pursues great stories, and the trust Warner Bros. Themed Entertainment and DC have put in us to write an original narrative, based on beloved DC characters, is an extraordinary privilege.

The concept has been seven years in the making. This won't just be an event; it'll be a ground-breaking and nuanced piece of theatre: working with the best collaborators; attracting new audiences to live performance; building on the legacy by allowing fans to get closer than ever. We can't wait to push at the boundaries of what's possible with this type of work.
The Producers of the show will be proudly partnering with suicide prevention charity: Campaign Against Living Miserably (CALM). The show will be raising awareness and fundraising for CALM's life-saving services so that more people can be reached before the point of crisis.
I love theatre and I love Batman so this sounds like the perfect experience for me, and I cannot wait to visit it. An exact location for Arkham has yet to be revealed, but I would imagine that it will be somewhere in central London that's easy to reach via bus/tube. There isn't really a lot of information on the website yet, but if the War Of The Worlds experience is anything to go by then I would think that there may be a lot of safety measures in place for people with medical conditions/ disabilities.
Arkham Asylum will open weekly, next Autumn 2022, between Tuesdays to Sundays, with tickets priced from £63.00 (plus booking fees) with some limited early bird offers during 2021. Not for the faint-hearted, this event is registered as an 18+. Tickets will go on general sale at 10:00 am (GMT) on Friday 29th October 2021 with an exclusive 48hr O2 presale at 10:00 am (GMT) Wednesday 27th October 2021 via the O2 Priority app, followed by a 24hr presale to anyone who registers via www.arkhamasylum.com. 
Images And Video Content May Be Subject To Copyright