WarnerMedia has announced the cast of the upcoming Batwheels television cartoon, including Ethan Hawke as Batman.
Batwheels is an upcoming preschool cartoon featuring the various Bat-vehicles as anthropomorphized characters, similar to Pixar's Cars film. Check out the official cast description, including Bam the Batmobile and Bibi, Batgirl's motorcycle.
Led by Bam (The Batmobile), the Batwheels – Bibi (The Batgirl Cycle), Red (The Redbird), Jett (The Batwing) and Buff (The Bat Truck) – must navigate the growing pains of being a newly formed super team as well as the growing pains that come with just being a kid. This relatable and aspirational series will follow the journey of this dynamic team as they thrill and entertain with their heroic adventures as well as demonstrate to kids the value of self-confidence, friendship and teamwork.
Bat-Vehicles Cast Descriptions
The vehicles' cast list include Jacob Bertrand as Bam, Jordan Reed as Redbird, Madigan Kacmar as Bibi, Noah Bentley as Buff, Lilimar as Batwing, Kimberly D. Brooks as the Batcomputer, and Mick Wingert as Moe.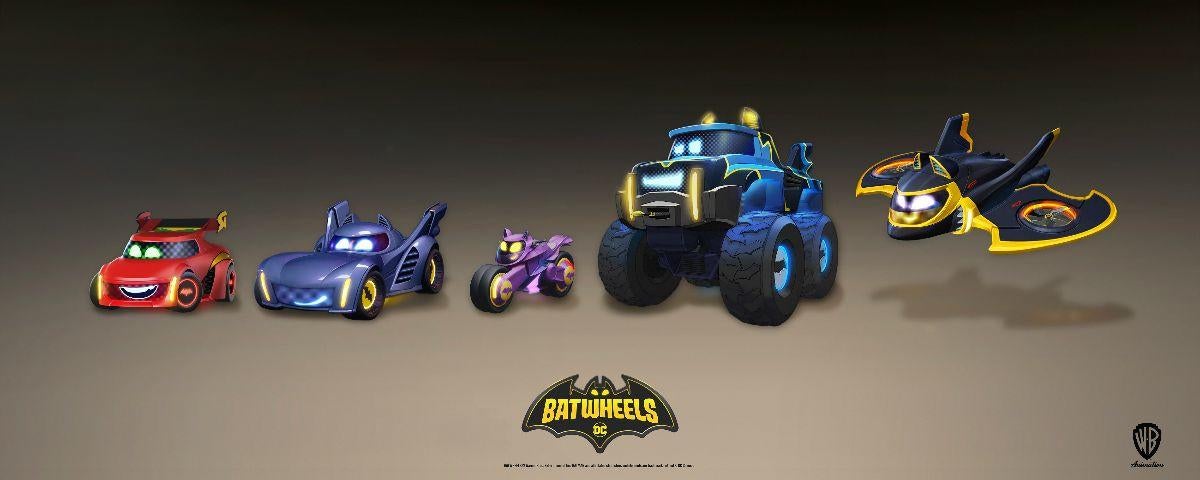 Check out the official character descriptions below.
Jacob Bertrand (Cobra Kai) as Bam – The Batmobile and leader of the Batwheels team, like his hero Batman, has a strong sense of justice and tries his best to lead the team, even though he's not always sure he's up for the task. Ultimately, the other Batwheels know they can count on him, both as a super teammate, and as a friend. Bertrand is represented by Jack Kingsrud/Zero Gravity Management, Kevin Hussey/ICM and Chad Christopher at Goodman, Genow, Schenkman, Smelkinson & Christopher.

Jordan Reed (Chuggington) as Redbird – Robin's zippy sports car. "Red" is the kid brother of the team, always eager to prove himself a worthy sidekick to Bam but he can hold his own on a mission. He's enthusiastic and extremely inquisitive, asking tons of questions, like a kid detective.

Madigan Kacmar (Chuggington) as Bibi – Batgirl's brave and bold motorcycle is the fastest of the Batwheels, but also the smallest, so she sometimes has a habit of being impulsive and jumping right into the action without a plan. Kacmar is represented by Bonnie Shumofsky Bloom at Stewart Talent Agency.

Noah Bentley (Elliott from Earth) as Buff – This Bat-styled monster truck is the team's muscle and can ram through or run over any obstacle in his path, but he's also the heart of the team – a gentle giant who doesn't really know his own strength. Bentley is represented by CESD.

Lilimar (Cleopatra in Space) as Batwing – Batman's supersonic jet plane, "Wing" is easily the most sophisticated, and confident member of the team.

Kimberly D. Brooks (DC Super Hero Girls) as The Batcomputer – The supervisor, dispatcher, and trainer of the team is also their mother figure. In addition to training and advising them, she must be there to comfort them and even hold their mechanical hands when needed. Brooks is represented by Cynthia McLean at SBV Talent.

Mick Wingert (What If…?) as Moe – Batman's robot repairman who facilitates repairs and upkeep on his fleet of vehicles. He is well-equipped, highly efficient mechanic who can fix almost any vehicular glitch, but not without a healthy dose of sarcasm. Wingert is represented by Heather Dame at Atlas Talent Agency.
Ethan Hawke and the Rest of the Cast
The human cast includes Hawke as Batman, AJ Hudson as Duke Thomas/Robin and Leah Lewis as Cassandra Cain/Batgirl.
Ethan Hawke (The Good Lord Bird) as Batman – Gotham City's greatest protector who keeps the streets safe from any and all threats. Even though Batman doesn't communicate directly with the Batwheels, he acts as a father figure. They absolutely seek his approval and trust while they fight alongside him. Hawke is represented by CAA, MGMT Entertainment and ID.

AJ Hudson (The Good Place) as Duke Thomas/Robin – The Boy Wonder who loves sinking his teeth into a great detective mystery while he strives to prove himself alongside Batman. Hudson is represented by Abbie Waters from Osbrink Agency and Tanesia Tramell from Eleven 7 Artist Management.

Leah Lewis (Nancy Drew) as Cassandra Cain/Batgirl – The first Asian-American Batgirl as first introduced in the comics. Cassandra is the "big sister," tech-savvy daredevil of the Bat-Family. She loves ripping around the streets of Gotham City on her motorcycle and always wants to be in the center of the action. Lewis is represented by Commercial Talent Agency, Paradigm, Strong Management, Morris, Yorn, Barnes, Levine, Krintzman, Rubenstein, Kohner & Gellman.
Batwheels does not have a premiere date yet.
Source: cbr.com
Images May Be Subject To Copyright