"Fear State Alpha"
Writer: James Tynion IV
Artists: Riccardo Federici
Color Artist: Chris Sotomayor
Letterer: Clayton Cowles
Review by Max Byrne
Fear State Alpha #1 acts as a direct continuation of Tynion's main Batman run, albeit with a different artistic duo onboard in the form of Riccardo Federici and Chris Sotomayor. These talents give the tale a whole new look, the narrative style and dialogue, however, are very much the same. Is this a bad thing? Of course not, as this is effectively an extra helping of the main series, so much so that it could almost be dubbed Batman #111a. This makes me a very happy reader indeed!
The much-anticipated Fear State era is now upon us, and what a start this is. For a city that's been through the wringer as much as Gotham has over the years, this is a new level of strife. The story will play out over the coming weeks across various titles and the early signs point towards this being a crossover event that will linger long in the memory.
Tynion covers a lot of bases in this issue, with different situations involving different characters that are all due to be expanded upon in due course. As scene-setting issues go, this is top-tier stuff. Perhaps my favorite of these is a flashback to the past, portraying a clandestine meeting within the walls of Arkham Asylum that details the start of the unholy alliance between Scarecrow and Simon Saint. A peek behind the curtain of villainous plotting is always a treat, as seeing how wicked minds align their goals is fascinating. Tynion inhabits the less altruistic characters so well, the dialogue between these two pieces of work is gripping and each panel tells us so much about these rotters. These collaborations never end well though, do they?
The previously mentioned artistic team really does elevate the proceedings here, which is high praise indeed for something already so good. Federici's figure work is a treat to take in, particularly the facial expressions of the characters. The look of the pages is realistic and not fantastical, and the people and the world they live in feel authentic. Adding in the tasteful color work of Sotomayor makes for an extremely enjoyable read. Complimenting Tynion's script perfectly, this is a creative team that I love already and hope has a long run ahead of them.
The pieces are all coming into play for the events to come. A Poison Ivy/Harley Quinn reunion (or is it?), Scarecrow's twisted plot taking shape, Simon Saint's frantic attempt at damage limitation, Catwoman entering the fray, and a certain Jace Fox putting on a certain iconic costume. To say much more would spoil things, so my advice would be to read this as a matter of urgency!
Conclusion
Batman Fear State Alpha #1 is a must-read for anybody who wants to get involved with the Fear State event. As starter portions go, this is real value for money.
The status quo in Gotham City is about to be turned on its head, maybe on a permanent basis. The road to hell starts here.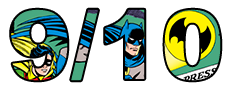 Images Courtesy of DC Entertainment