"Reunion or Rumble"
Writer: Joshua Williamson
Artist: Gleb Melnikov
Color Artist: Luis Guerrero
Letterer: ALW's Troy Peteri
Review by Fay Clark
With a fantastic setup from the previous issue, I can't tell you how much I wanted to jump right into Robin #5. The last panel in #4 sent shivers of anticipation down my spine, so I really couldn't wait for the Bat Fam to come in and just add more drama to an already very powerful series!
Batarang right to the feels
Please, why must you make me feel things? I don't need this! I came for a nice "killing people on an island" jaunt, and now I want to cry myself to sleep. We sort of knew where Robin #5 was going to take us, after the last scene, where most of the Bat Fam turned up to talk sense into Damian. I love all interactions between the Batboys, but when you add the extra spice of a Batlady… well, things just keep on getting better! Joshua Williamson has clearly thought about this a lot, "How do I hurt my readers, but keep them coming back?" Well, you've found the answer, Mr. Williamson. This great writer just has a knack for making emotions run high, both in his characters and with his readers.
My favorite part of Robin #5 has to be the interaction between Jason Todd and Damian. There was so much going on! I'm mad, happy, sad, and laughing. That entire scene was everything I wanted in a bonding moment… then it turned into a nightmare! Joshua Williamson, HOW DO YOU SLEEP AT NIGHT?! There was also an amazing scene with Dick Grayson, one I think we've all been waiting to see. Finally, a father figure who knows how to parent (sorry Alfred, nothing against you… miss you!)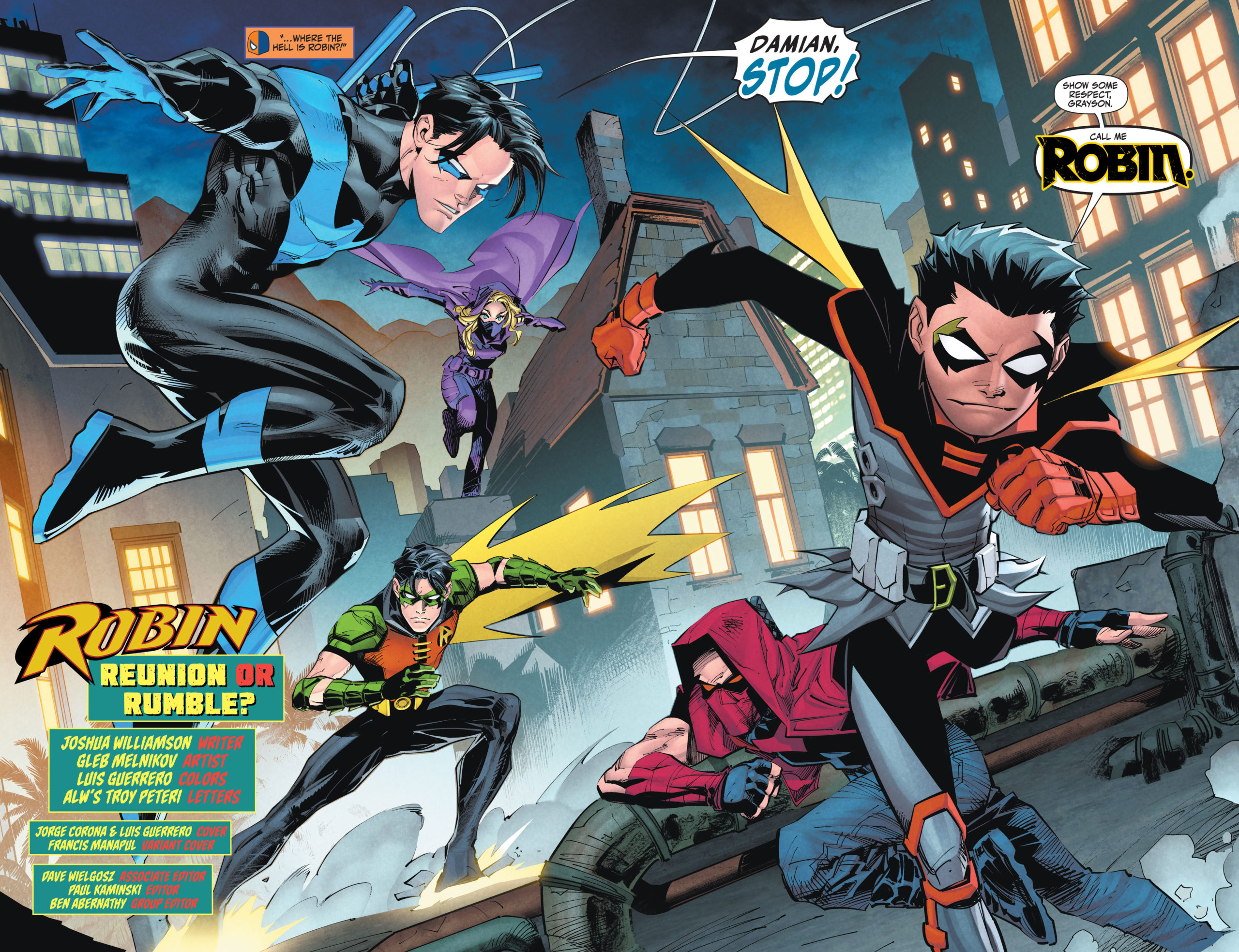 Beautiful Bat Babies
As usual, we receive spectacular art from Gleb Melnikov. Words can only do so much damage if not paired with an awesome artist who can render faces and body language as well as Melnikov. Most of the hard-hitting emotion in Robin #5 would be lost without his talent. Gleb has as much to answer for as Joshua does! Seeing the pain and the emotion on everyone's faces really got the point across. Although we don't spend much time on the island in Robin #5 the main essence of darkness and mystery still runs through the imagery of the issue.
Conclusion
Events sucked, yet was the best issue ever. I loved having a guest appearance from the Bat Fam and seeing them all in a sibling shouting match. I still adore Rose Wilson with all my hurt and broken heart, thanks, Joshua Williamson. Damian best get to the bottom of this mystery soon, as I don't know how much more I can take from this awesome team.

Images Courtesy of DC Entertainment