Review by Carl Bryan
Where We Are Now…
Red Hood: The epic "Cheer" story line reaches its conclusion, and Red Hood's alliance with Batman will be forever changed. Will the former Dynamic Duo get the Cheerdrop drug off the streets for good? Or will they forever be at the mercy of the villain who created it? Will Red Hood find a new home for Tyler, the boy he's sworn to protect?
Tim Drake: Robin is in the den of the Chaos Monsters with the other kidnapped teenagers of Gotham City. In order to free himself and the other teens, Tim will have to accept help from his friend Bernard and find out something about himself he never knew. A brand-new chapter of Tim Drake's life starts here, and you won't want to miss it!
Black Canary: Oracle locates some Batman weaponry, missing since the Joker War, and calls in her old friend Dinah Lance to help retrieve it! Fists will fly, the Canary will scream, and a stunning new mission begins. The ending will leave readers in shock and awe!
Zealot: The HALO Corporation sent their top field agent, code name Zealot, to hunt Maxwell Lord. But the villain has a guardian angel in the form of…Wonder Woman?! A throw down for the ages will ensue!
Cheers for Red Hood & Batman
What villain has ever been able to bring Batman to the brink of an emotional breakdown?  Joker…Scarecrow…Bane?   Chip Zdarsky has subtlety slipped in a villain that could arguably have as much impact as The Joker himself.
I hate spoilers like the rest of you, but the final frames of this story let the reader know just how much Cheer has affected Batman on multiple levels.  Zdarsky's words, through Bruce, are horrific and Jason Todd as the voice of reason lets us know that the future could finally be brighter for both of them!
The team of artists on this book provide an awesome incarnation of Red Hood that's both a tribute to Bruce Wayne, but arguably should be his permanent look from here on out.  Talk about shades of that famous Ra's Al Ghul comic cover where Batman is weeping over a fallen Robin. Holy Tribute! Check out the look on a desperate Batman's face!  History Lesson Received!
Zealot…Uh-Oh…This Mean More Than We Think It Does
This Matthew Rosenberg story seems a bit out of place, as I'm not quite sure of Zealot's place in things other than a mention of Grifter. What about last issue though, huh? I love the homage to Image Comics, and I'm still waiting on another Spawn/Batman crossover… but I digress.
Having a sample of Wonder Woman's blood is scary enough, it's like the Joker having his finger on the neck bombs of every Suicide Squad member, so this may be foreshadowing a story of epic proportions.
Tim Drake… It's About Time
Meghan Fitzmartin weaves a great Tim Drake/Robin story of duality; the struggle of fitting into one's own skin, the expectations of others, and how to be true to yourself. There will be lots written about this story, and there already has.  Batman writers have never shied away from anything and their moral compasses have almost always been strong.
Fitzmartin's taken a great chance with this story and this reviewer appreciated it on a lot of different levels. It was time!
Black Canary
Black Canary and Batgirl…first of all the art in this story is superlative and the costuming, the lines, the colors are all on point to where it should be hung in a comic museum.  Barbara taking on dual roles as both Batgirl and Oracle is on point!  She's running point now that Bruce is broke, and getting her fellow Birds of Prey partner Dinah in the mix is great!
"How's Ollie"…"How's Dick"…"Moving On!"….Priceless exchange between them both! Great writing!
The car…The car…"I like that car!"… Can these two just have their own series together?
The ending… or rather the beginning of this story is perfect!
Conclusion
Batman: Urban Legends #6 is a home run, in terms of both finishing out the game and commencing a new inning.  From new villains to new takes to announcements heard around the world… this is THE ISSUE!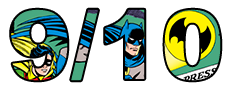 Images Courtesy of DC Entertainment