Writers: Chip Zdarsky, Marguerite Bennett, Meghan Fitzmartin, and Matthew Rosenberg
Artists: Eddy Barrows, Eber Ferreira, Diogenes Neves, Marcus To, Sweeney Boo, Belén Ortega, and Ryan Benjamin
Color Artists: Adriano Lucas, Marissa Louise, Alejandro Sánchez, and Antonio Fabela
Letterers: Becca Carey, Pat Brosseau, and Saida Temofonte
Review by Steve J. Ray
Legendary heroes, returning favorites from the past, and a star of the future: Batman: Urban Legends #5 features all of these, and more.
Red Hood & Batman
I've been loving this story from the very beginning, and as we reach the penultimate chapter Chip Zdarsky is turning up the heat… though, considering this is a story that heavily features Mr. Freeze, that may be the complete opposite of the actual predicament our heroes find themselves in.
I've always been a Jason Todd fan, but few writers have portrayed the character as brilliantly as Zdarsky. Yes, Jason's still the rebellious son with a chip (not Zdarsky) on his shoulder, but in this tale he's proving to be so much more. Part five of "Cheer" gives us Jason Todd as a sensitive, insightful, and very caring detective; a formidable warrior, and a more than capable partner for Batman.
This month's flashback sequences show this side of Jason too, and marry beautifully with the scenes occurring in the present.
The art in this chapter is stellar . I've been a fan of the Barrows/Ferreira team for many years, and their excellent work on Detective Comics a few years back cemented their outstanding penciller/inker relationship and expert credentials in my heart and mind. Diogenes Neves' work meshes well with Eddy and Eber's, and Marcus To's art on the flashback scenes is gorgeous, as it contrasts wonderfully with the Barrows/Ferreira/Neves art, particularly as it's all colored by the wonderful Adriano Lucas.
I cannot wait to see how the story ends, in a few weeks' time.
Batgirls
Part five of "Wildcards" blew my mind. I've been raving about Marguerite Bennett's writing since I first came across her work, and she has yet to disappoint. Her grasp on Steph and Cass is been spot-on perfect, but with this story she's re-introduced a new favorite, and shown a real understanding and respect for the character that's impressed me greatly.
I'm not going to give anything away, because I really think that every Bat-fan should be reading this book, as should those who enjoy the various superhero TV shows out there. The surprise guest this month is already a massive TV star, yet this is (to my knowledge) only her second comics appearance (her first being in Cecil Castellucci's excellent Batgirl #50). Marguerite has made this character likable, impressive, and downright awesome in the space of just five, spectacularly executed, pages.
Sweeney Boo and Marissa Louise are the perfect artists for this story. The more vibrant and cartoony style they use is the perfect contrast to the dark, gritty tone set by the first story, and fits these wonderful characters perfectly.
Tim Drake
I adore the character of Tim Drake, and it's clear that this creative team does too. The third Robin is still my favorite, as he's such a rich, complex, and capable character. His detective skills rival Batman's, and the dark Knight himself has stated on many occasions that he truly believes that Tim will one day surpass him.
Meghan Fitzmartin is a wonderful writer, and for me one of the greatest Tim Drake scribes of them all; she gets him, respects the character, and knows what makes him tick. What more could a Robin fan want?
Belén Ortega and Alejandro Sánchez continue to deliver gorgeous art on this story, too. I love talents that can provide great storytelling; facial expressions, body language, settings, and backgrounds, as well as action and adventure. This team delivers on every front, and I'm really enjoying their work.
Grifter
Boy, oh boy, oh boy. I'm not the regular reviewer for this title, but I'm so glad that the one comic I had to cover a review for turned out to be Batman: Urban Legends #5. The end of this chapter delivered something I've been itching for, for decades, and even though I suspected this outcome, the execution and reveal exceeded all my expectations.
Cole Cash fans wondering who the heck he's been chatting over comms with over the last few months finally get their answers, and the reveal is gonna drive cats wild! Matthew Rosenberg has delivered a killer final chapter, and Ryan Benjamin has given us a classic bunch of characters, some of whom have been re-designed and re-imagined in really cool ways. I think I know all of them, but am only 80% on one, and another feels new to me.
Antonio Fabela's colors are great (as usual) and the whole finale leaps off the page, particularly when our guests arrive. This is comic book gold.
Conclusion
Batman: Urban Legends #5 is a winner. I've been saying for years that DC make the very best anthology books, and I'm sure that regular readers of this series will agree. This title is terrific, and this could be the best issue to date. Fans of Batman, Red Hood, the Batgirls, Tim Drake and 90s comics need to pick this book up.
Highly recommended.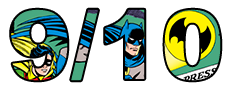 Images Courtesy of DC Entertainment