Review by Kevin Gunn
Warner Animation has done a phenomenal job of translating beloved works to film, and Batman: The Long Halloween – Part One, is no exception.
I'm going to come clean…. I've never read the award-winning DC Comics mini-series on which this film is based, so I'm going to ask my colleagues like Eric Lee to not hate me for my confession. I always wanted to read it but never got around to it. What I like about the DC Universe Animated Movies is that the characters and stories are so well-known that you don't always have to have read the source material. Most people know who Superman, Wonder Woman, and Batman are, and several of them (myself included) have heard of The Long Halloween.
Jensen Ackles: From Supernatural to Superhero
DC Universe Animated Movies casting directors have shattered our myths about who should play these iconic characters. Jensen Ackles (from Supernatural) is no stranger to animation, as he played Jason Todd/Red Hood in Batman: Under the Red Hood. Ackles also voiced his Dean Winchester character in a special episode Scooby-Doo crossover episode of Supernatural.  This is the first time that the actor has breathed life into Batman/Bruce Wayne, and it seems like a perfect and (super)natural match.
Ackles is not the only actor to lend his skills to this project. Josh Duhamel (Jupiter's Legacy, Transformers, Las Vegas) provides an exceptional performance as District Attorney Harvey Dent. It takes a great deal of dexterity to play Dent and his obviously emerging other half. Duhamel rides the role (or roles) with accuracy, giving us a glimpse of his upcoming performance in Batman: The Long Halloween – Part Two.
I would be remiss if I didn't mention the late Naya Rivera (GLEE) as Selina Kyle/Catwoman. I like how Tim Sheridan writes Kyle as an accomplished and independent character. To borrow from the old adage, she plays with Batman as a cat plays with a  mouse. Rivera doesn't overact her part, which is important in animated movies. In fact, none of the actors do. I could go on and talk about the other phenomenal performances by Titus Welliver, Billy Burke, David Dastmalchian, and others, but let's dive more into the movie itself.
The Godfather, Dirty Harry, and The Silence of the Lambs Tribute Film
Sheridan taps into several influential films to make The Long Halloween – Part One. Several recurring themes show up, and all of them are welcome. This movie brings suspense, action, noir, and mystery, all in one package. Speaking of mystery, it offers a red herring that keeps you guessing and anxiously awaiting Part Two. This first film could easily serve as a sequel to Batman: Year One (2011) because they both share the same tone. It also serves as a continuation of the Batman – James Gordon partnership.
I hope that Warner Animation continues its tradition of packaging segmented movies into one film. Even though I will be restlessly waiting for Part Two to premiere (along with everyone else), I will also appreciate seeing both parts together into one bundle.
It looks like DC Universe Animated Movies are continuing with the animated style that was established in Superman: Man of Tomorrow (2020), as it carried over both in this release, and in Justice Society: World War II, which came out earlier this year. I hope that all of these films are part of the same continuity. The DC Animated Universe spoiled me, so don't get my hopes up, James Tucker and Jim Kreig.
Conclusion
Batman: The Long Halloween – Part One offers a look into the early lives of Bruce Wayne, Jim Gordon, and Harvey Dent. The previously mentioned movies were nice, but this film is a well-executed crime drama. If you close your eyes, you would think that it was a live-action movie with twists and turns that leave you wanting more. I'm counting the days until July 27 when Batman: The Long Halloween – Part Two is released.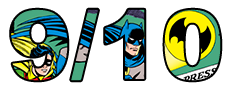 Images May Be Subject To Copyright