"The Court of Owls" – Part One
Writers: Alan Burnett and Paul Dini
Artist: Ty Templeton
Color Artist: Monica Kubina
Letterer: Josh Reed
Review by James Attias
The Dark Knight that set the gold standard for cartoon heroes returns! Yes, we're back into the wonderful animated world of Gotham. Much like the animated show itself, this issue does not disappoint! Batman: The Adventures Continue #2.1 is here!
Season one of this series treated us to new takes on Jason Todd, Azrael, and Deathstroke, to name a few, and it looks like season two won't be short on new faces, or a few old ones either. For all of you die-hard animated series lovers out there, this issue starts with a little bit of an emotional gut-punch, as we lose a character who has been with us since 1992. It looks like Alan Burnett and Paul Dini won't be pulling any punches this season.
The comic delivers a huge amount of nostalgia for the show and the 90's comics, that will have fans smiling from ear to ear. Like a fine wine, paired with an expensive meal, these comics beautifully complement the related source material. From the fantastic Bruce Timm-inspired art by Ty Templeton to the voices of Kevin Conroy et al that echo in my head whenever I read these beloved characters.
A Death in the Family
This issue, and all of the ones that came before it, have revealed that the court of Owls is in fact taking on this Batman for the first time. The Owls draw first blood by murdering a beloved character – no spoilers here! If the Owls wanted to seem like a real threat to Batman (and to readers), offing a long-standing character on the second page of the book was the way to do it! (although I didn't think I'd be as upset by that as I actually was).
With familiar faces making appearances throughout; the likes of Dead Man (AKA Boston Brand) and Zatanna, not to mention the regular Bat-family, who are always around to help, fans really are spoiled with a wealth of choice as to what we're most excited about. Who's going to show up next?!
Monica Kubina's colors, as always, are fantastic. Showing us the grizzly dark blue flesh of the Talon when he's wounded, or the red night sky that's always perfect for a bat-shaped silhouette are lovely touches.
Conclusion
Batman: The Adventures Continue #2.1 is a treat to read. There are laughs, tears, and good old-fashioned comic book twists. I for one can't wait for issue #2, where hopefully we'll see Batman and more of our favorite characters kick some serious Owl tail feathers!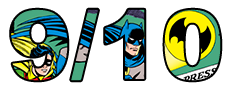 Images Courtesy of DC Entertainment