"Death Metal" – Book Seven – "A Slap in The Face"
Writer: Scott Snyder
Artists: Greg Capullo, Jonathan Glapion, Yanick Paquette, and Bryan Hitch
Color Artists: FCO Plascencia, Nathan Fairbairn, and Alex Sinclair
Letterer: Tom Napolitano
Review by Steve J. Ray
This is how it ends. Dark Nights: Death Metal #7 is here, and the DC Multiverse will never be the same again. Actually, it will be, exactly the same… yet totally different at the same time. The creation of the DC Metaverse/Omniverse, first touted in the divisive Kingdom Come sequel The Kingdom, then brought to life in Doomsday Clock is finally here, and this particular fan could not be happier.
I have to admit that I wondered how this epic saga could have been concluded with just 20 pages, so when I received the digital review copy you can only imagine my delight, and relief. This blockbuster finale has over forty pages, drawn and colored by a stellar list of talents. While I perhaps would've preferred for Greg Capullo, Jonathan Glapion and FCO Plascencia to have handled the whole book, we would probably have had to wait an extra month for it. The end result, while not as visually cohesive as I would've liked, still looked gorgeous, and was a terrific read.
Perfectly Balanced
The beautiful part of this issue, and this whole series, is the way it's balanced all the absurd fantasy of comic-books, with heart, soul, and really excellent characterisation. In the past it would've been Batman, Superman, or perhaps the entire Justice League that saved the day. This time they helped, and the fact that their actions actually enabled Wonder Woman to be the real savior felt like a breath of fresh air. When her 100 page 80th anniversary celebration issue showcased Diana as DC's original superhero, present during the Golden Age, I sensed that her role in Death Metal would be a strong one. My faith in her, as a fan, as a reader, and as a critic, was rewarded by this excellent issue.
Is there outrageous action in this book? Yes. Are there moments of complete fantasy? Absolutely. Did it spoil my enjoyment of this issue, or Death Metal as a whole? Hell, no! I honestly believe that we need even more fun, bonkers, outrageous comics in our stores, and in our hands. After the awful and trying year that was 2020, getting a series like this one to close it, and to ring in 2021, was an absolute joy. The best part? with what the following two months have lined up, I honestly believe that the best is yet to come.
Conclusion
Dark Nights: Death Metal #7 is close to perfect. It closes the event cleanly and decisively while setting the stage for the future. The original Metal was game-changing, but for me this series was more effective than its predecessor. I think we'll get a bigger payoff, and more fun from Death Metal and Future State than we did from the New Age of Heroes. I have so many questions, and I look forward to getting the answers very soon. Generations Shattered and Infinite Frontier are coming up next… and I cannot wait.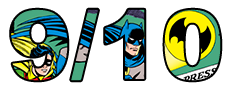 Images Courtesy of DC Entertainment