Writers: James Tynion IV, John Ridley, Joshua Williamson, Sam Jones
Artists: Guillem March, Olivier Coipel, David Lafuente, Laura Braga, James Stokoe

Minor Spoilers Ahead!
Review by Eric Lee
While a fun idea, The Joker War Zone #1 focuses less on the implications of the "Joker War" event and more on teases for future story arcs. Since it collects a bunch of short stories, we will review each one individually.
A Serious House
This short features the Joker castigating an imprisoned Bane for his failed plans back in "City of Bane". This story's nice because it's the only real connective tissue between James Tynion's current work, and Tom King's previous run. The art by Guillem March is beautiful. It has March's trademark, overly exaggerated anatomy, and grotesque features. In fact, I think his Joker may be my favorite depiction.
However, the plot doesn't really fully take advantage of the status quo set up by "Joker War", nor does it really tease much for the future, other than Bane possible involvement. It's a nice character moment between the two arch villains, but I wish there was some more meat to the interaction.

Family Ties
This may be the best "Joker War" tie-in story in The Joker War Zone #1. It deals with the tension between members of Lucius Fox's family. It also directly ties into a big plot point from the main book. Furthermore, it deals with where Lucius' mindset is at since being manipulated, and controlled by Punchline earlier in the main Batman book. This story  allows the characters to breath and contemplate the emotional fallout of the craziness in the main story line. This is the type of plot that the main book cannot do, because it needs every page to propel the central narrative. Placing it Joker War Zone is a perfect place.
My only concern is that the ending veers uncomfortably close to some real-life politics. Not to say that we cannot have politics in our comics, but a short story tie-in is not the best platform for it.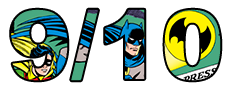 The Symbol
Spoiler and Orphan take center stage in "The Signal". The story is fun and bouncy, the art is a delight, although slightly out of place in such a grim event. The plot focuses on the importance of the Bat-Signal in Gotham, and also features a dramatic make-over for the characters. Without spoiling anything, long-time fans of Cassandra Cain will be happy. It's a fun romp, but dampened by the realization that it doesn't affect the main "Joker War" narrative at all. Ultimately, it's sadly inconsequential.

Ashes of Eden
I was surprised to get a story dealing with the fallout of the events of Batman #98. Poison Ivy has a small character arc that leads her down a darker path. It's cool seeing how "Joker War" affected other villainous characters, giving us another tease for a future storyline.
Unlike "A Serious House", the developments with Poison Ivy are a little more substantial. However, I'm not exactly sure if writer Sam Jones convincingly explained Ivy's new motivations.

Clown Hunt
"Clown Hunt" showcased my favorite art, in a one-shot full of amazing artists. The wild, Fantagraphics style really stood out to me. It gave the tone a crazy drug trip. Focusing on the new character of Clownhunter, we finally got to understand some of his motivation, and a tiny bit of his back story. However, my biggest problem with Clownhunter is how unbelievably effective he is at killing Joker goons. He's only a teenager, yet he knows how to wire motion-detecting bombs to bodies? That really breaks the suspension of disbelief and takes me out of the story.

Images courtesy of DC Entertainment