Article by Sharna Jahangir 
It's been the most exciting weekend for DC Comics, so far this year. With the pandemic guidelines resulting in the cancellation of several comic cons, DC hosted a virtual event to deliver the information we crave to the fans. The Suicide Squad will be blasting your way in 2021, with more explosions than ever before. Director James Gunn brought this to light as the cast made their introductions, before starting a trivia competition.

Much to their excitement, the new film will have returning actors such as Viola Davis as Amanda Waller, Joel Kinnaman as Captain Rick Flag, Jai Courtney as Captain Boomerang, and the fantastical Margot Robbie as the clown princess of crime, Harley Quinn.
The new additions to this bomb squad are Idris Elba as Bloodsport; David Dastmalchian as Polka-Dot Man; former Doctor Who, Peter Capaldi as the Thinker; Nathan Fillion as T.D.K; John Cena as Peacemaker; Michael Rooker as Savant; Daniela Melchior as Ratcatcher 2; Pete Davidson as Blackguard; Joaquín Cosío as Major General Suarez; Alice Braga as Solsoria; Flula Borg as Javelin; Steve Agee as King Shark; Mayling Ng as Mongal; Juan Diego Botto as General Luna; and Sean Gunn as Weasel. Several members of the team appeared for this panel.
Mercenaries of Your Heart
The cast is fantastic, there are some major comedians and action players, who will play well into a rag-tag gang from Gotham. Several of these characters have never graced live-action, and this film will mark their debuts.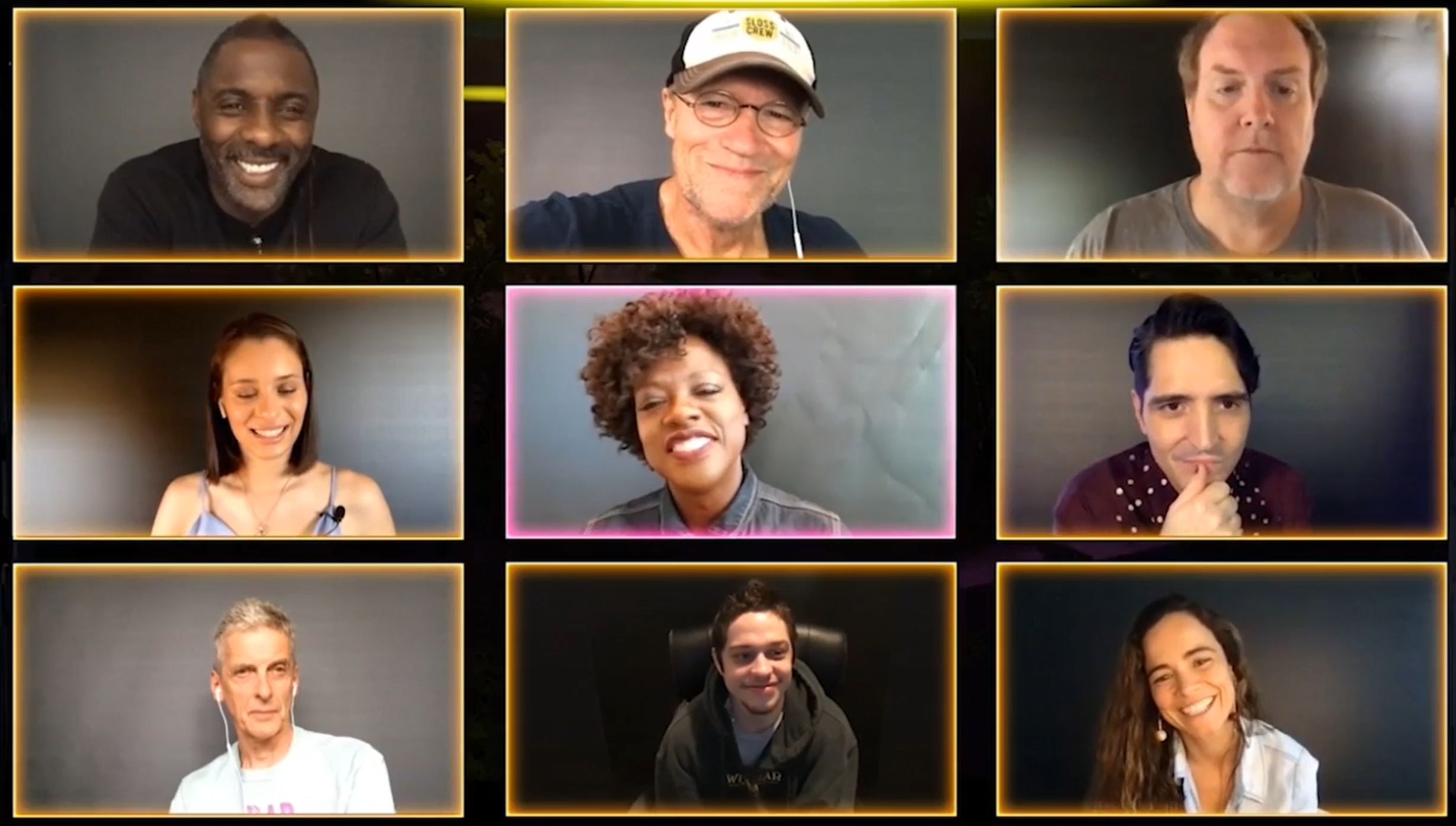 The chemistry between the players and the director is what will make this film epic. James Gunn truly shows care for his team, and beautifully shares his thoughts on The Suicide Squad.
Margot Robbie: How is the movie? How does it look?

James Gunn: It's amazing. It's like amazing! Like really, truly. It's just the most fun I've ever had. I love the movie. The studio is overwhelmingly happy.

Robbie: Wow.
Coming from Gunn, this comment means a lot, as he's worked on several masterpiece projects  on the superhero scene.
He continues:
The action is great. It's funny, and it's really dramatic in the right place and very touching. It's great, and all of you guys! Just down the line, it's just the greatest cast I've ever worked with by far, just every single person is amazing! It's just a once-in-a-lifetime thing for me, was a blast to make. Just cutting together completely fluidly. I gotta say I'm grateful to all of you guys… except Rooker.
Peter Capaldi shared gratitude for Gunn's welcome and support on his first big-time superhero film. He said:
I just gotta say what an amazing experience it was, with you [gestures to James] and with these guys. You know the atmosphere on that set was so positive and such a warm and wonderful supportive place to be. Not everyone has been in a big superhero movie, even if they've been Doctor Who or anything like that, so to walk onto a set like that can be quite intimidating. But the welcome you and everybody here provided was just fantastic, so thank you and everybody here for that.
The trivia from the team was hugely entertaining, giving me further excitement about how they'll work on the big screen together.
The panel concluded with an official behind the scenes clip. Take a look:

As an online medium, I truly miss the conventions. The friendships, the company, the noise of excitement. However, we ourselves must be the world's superheroes, as we show our love for each other by staying home and practising safe social distancing. For my first virtual convention, it was great having favorite and beloved actors and actresses speak live, in the comfort of my own home.  Having them laugh and share in the celebration of continuing the DC Universe in live-action, it was a kind and exciting experience, and if this is how things will work for the time being, it's more than enough, and fans are grateful.
Look out for The Suicide Squad, coming out in 2021!
Images May Be Subject To Copyright