"The Demon's Fire" – Part One
Writer: Bryan Hill
Artist: Gleb Melnikov
Color Artist: Ivan Plascencia
Letterer: Clayton Cowles
Review by Steve J. Ray
Batman And The Outsiders #13 gives us the first steps on the road to war with Ra's Al Ghul. The Demon's weapon is ready and he's already planted seeds of doubt in the hearts and minds of the Outsiders. Will they fracture, or will these cracks simply allow the outsiders to attack their enemy from multiple fronts?
Whatever the answer is, I'm invested.
Bryan hill's web of intrigue is growing, and in this issue the Outsiders get some help from unexpected quarters. What I love is that Bryan Hill isn't just about the fights and action (though he does that stuff brilliantly), his use of dialogue and spot-on characterization always elevates said action.
I was surprised not to see Dexter Soy and Veronica Gandini's names on the cover, but the team of Gleb Melnikov and Ivan Plascencia have done their predecessors proud. I greatly enjoyed Gleb's work in the DC Valentine's Day special "Crimes of Passion", so was very happy to see him again in this issue. He's totally cut loose, too! I really dig his style, as it's reminiscent of both Greg Capullo and John Bognadove, who are two favorites of mine, yet he also brings something that's freshly Melnikov to the table.
His title page image of Batman is awesome… look at it!
Let Me Hear Your Body Talk
Like Bryan Hill, Gleb handles action scenes beautifully, but it's his storytelling that really impresses. When (not if) you buy this comic, check out the brilliant facial expressions and body language throughout: all of Page 5, Duke and Cassandra's training montage on page 6, Cass adjusting her posture after battle, on page 7, and – my personal favorite – panel 1 of page 10. As Katana's walking down the stairs her stance, the way she's walking, and the way she holds onto the hand-rail, speak more about the duel she's come out of than ten full pages of fight scenes ever could. It's an incredibly impressive piece of drawing. More, please!
Ivan Plascencia and Clayton Cowles always deliver the goods. The color and lettering in Batman And The Outsiders #13 is terrific. From the glow emanating from Ra's treasure chest, which matches the color palette used for everything Al Ghul, as well as the great creator credits, both gentlemen deliver sterling work.
Conclusion
This issue is a little slow, but I welcome the change of pace. It's setting the tome for the war to come. The character moments, guest star and terrific artwork all elevate the book. If people want to see some great comic-book storytelling, this would be a fine issue to hand them.
As for next issue? Oh, Jefferson, I don't envy you, sir.
See you all next month.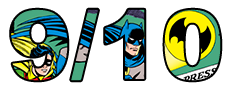 Images Courtesy of DC Entertainment