Writers: Mairghread Scott (Screenplay), Christina Sotta, and Ernie Altbaker
Directors: Matt Peters and Christina Sotta
Starring: Jerry O'Connell, Matt Ryan, Jason O'Mara, Taissa Famiga, Stuart Allen, Tony Todd, Rosario Dawson, Shemar Moore, Christopher Gorham, Rebecca Romijn, Rainn Wilson
Review by Kevin Gunn
I know that this is a DC Comics fan-site; specifically a Batman one, but let's be clear, I'm a superhero fan. I try not to get caught up in the "DC vs. Marvel" debate because I love both groups. Although I have to admit, except for any film in the last century with the Joker in it, Marvel has dominated the big screen. The small screen however, is a completely different matter, and Justice League Dark: Apokolips War is a prime example why.
A plethora of television shows and animated films have put DC at the top. In 2013, producer James Tucker was picked to oversee the DC Universe Original Animated Movies line. I don't know whose idea it was, but Tucker ushered in a new era in theses films while also borrowing a successful play from Marvel's silver screen playbook. That's how the DC Animated Movie Universe (DCAMU) was born. A shared series of tales within its continuity.
Like with The New 52, our heroes all received a soft reboot. Also like it's comic book counterpart, DCAMU was birthed by Justice League: The Flashpoint Paradox. Even though this universe closely resembled The New 52, it also took a creative license by bringing classic DC stories under a new lens.

The End of an Era
After a seven-year run, Warner Animation have closed the chapter on the DCAMU with a story almost as epic as Marvel's Avengers: Endgame. Justice League Dark: Apokolips War has many parallels to Endgame; high stakes, a large group of heroes to deal with those stakes, and a big bad calling the shots.
A significant difference between Apokolips War and Endgame is Warner Animation deciding to wipe the slate clean. Like the Flash, we know that this universe existed, and it's nice that each movie can be enjoyed separately or as a weekend binge.

(Super) Power Couple(s)
Actors (and real-life married couple) Jerry O'Connell and Rebecca Romijn bring powerful final performances to their roles as Clark and Lois. Mairghread Scott, Christina Sotta, and Ernie Altbacker brilliantly highlight this power couple's relationship. Romijn's Lois Lane harkens back to Stana Katic's turn in the role in Superman: Unbound. Lois isn't just arm-candy or a damsel in distress for Superman, but a competent person with her own separate life and a mission.
We haven't heard from Stuart Allen and Taissa Farmiga together since Teen Titans: The Judas Contract. Allen's voice has matured (he's 21), so it only fits that Damian Wayne has also aged in this film. Allen delivers commanding dialogue, you believe that he's in charge of the League of Shadows. Farmiga seems more sure as Raven than she did in Justice League vs. Teen Titans, and that is a compliment.
Matt Ryan can do no wrong, he's the embodiment of John Constantine, as he's already proved in live-action and animation. I wish that I had more time to go over the superb performances by Rosario Dawson (love her), Tony Todd, Shemar Moore, Jason O'Mara, Rainn Wilson, and Christopher Gorham. Still, time is short, and I have to complete this review.
Conclusion
Justice League Dark: Apokolips War is a fitting tribute to the end of the DCAMU. It hits all of the emotional beats and action we've come to expect from Warner Animation. The film also sets a high bar for new DC Universe Original Animated Movies to come, and I look forward to seeing what's in store!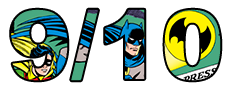 Images May Be Subject To Copyright