Writer: Steve Orlando
 


Artist: Amancay Nahuelpan
Color Artist: Trish Mulvihill
Letterer: Tom Napolitano
Review by Carl Bryan

In Gotham City Monsters #5, Melmoth has summoned the Monster League of Evil from the depths of the Multiverse to serve as his minions and destroy our team of monstrous heroes. Dracula, the Wolfman, the Mummy and…Frankenstein?! It's Frank versus Frank in this showdown to save the Multiverse as we know it!
Steve Orlando has done his homework and the storyline does a great job of merging the Gotham City Monsters with this Monster League of Evil, which contains all the characters reminiscent of the Forrest J Ackerman era of Famous Monsters!
Never has a letterer been more important to a comics story than the work of Tom Napolitano. Every character, when needed, has a certain tint, coloring, or font that makes that character read in your mind ever so properly! That's as important as the writing and the art!
The battle scenes are so powerful in this comic, as they're an acknowledgement of the Multiverse which yielded the original monsters, but also a recognition that these creatures don't die easily:
Frankenstein: Leave the head far from the body.

Lady Clayface:  Monsters like this don't stay down for long.
The exchange between Lady Clayface and the Phantom is as great a mentor speech as you can find in any written work! It's a must read section which highlights the developing friendship between the two characters.
Batwoman's interaction with Orca and Killer Croc is a page turner too! Her acknowledgement that she's not Batman nor Nightwing, but her own woman that doesn't care about the past is why she is now part of this "team".
The dialogue between the two Frankensteins in battle provide a pretty great insight into two creatures created to fulfil some sort of God-like dream by the creator
Cheers for Educators and for Curveballs!
With Melmoth's acknowledgement of removing tongues from every teacher, not out of hatred or fear, but out of reverence to the power of teachers, Orlando strikes a chord for every educator in the field… in an odd way as they are the last sacrifice to take on… Perpetua.
DC has done a great job involving everyone in the Multiverse battle, and it seems that Melmoth's plot all along has been to thwart her actions. This is quite a web and I don't know whether to pull for him or against him as his methods are quite horrid!
Conclusion
Gotham City Monsters #5 is really good!  I mean really good, and so rich in its storytelling that it needs to be considered for an extended run, if not as a companion series to Justice League Dark! This has to happen!
Steve Orlando… you have our attention!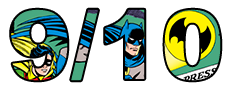 Images Courtesy Of DC Entertainment

google.com, pub-9882021783221697, DIRECT, f08c47fec0942fa0