"The Trials of Harley Quinn" –  Grand Finale
Writer: Sam Humphries
Artist: Sami Basri
Colorist: Hi-Fi
Letterer: Dave Sharpe
Review by Kendra Hale
Buzz Aldrin's Jockstrap
Harley Quinn #66 is here and it brings with it the climatic finale to "The Trials of Harley Quinn!" I've already admitted that I wasn't overly fond of the last issue,but this one took all of that and gave me a salve. Last time we dealt with the terrible loss of Harley Quinn's mother and how Harley handled things, and in this chapter we deal with a ton of other stuff… so let's dig in.
Foot rubs From Carl Sagan
Harley Quinn #66 dives right back into the story and gives us raw emotion, as Harley not only becomes the Angel of Retribution, but she wields that power quite forcefully and with purpose, I must say. She takes all her rage and proceeds to "kill" the Lords of Order and Chaos. Which is when they give her the most priceless gift; closure and farewell. This issue has redeemed the fast paced nature of the last one by putting the emphasis where it needed to be. I loved them giving Harley closure, in honestly the sweetest way possible. That and all the other feels goodness in this issue made it the sweetest of treats.
Arthritis Of The Private Parts
Overall, the art and storytelling in this issue are perfect. Sam Humphries' writing is very poignant and visceral, and the artwork matches it beautifully. Whether the scene requires sorrow, anger, or joy… even mischief, if the case calls for it. The lettering is also astounding; I truly love watching all the different ways that Dave Sharpe gives each character a voice, in order to deepen their individuality. Hi-Fi gives us a great array of color to help make not only the characters but the scenes real.
Conclusion
Harley Quinn #66 closes one door and opens the big one, that draws us into the "Year of the Villain" theme currently running through the DC Universe. It's been mentioned in previous Harley Quinn issues, but the next one boasts to close it all. I really loved what they did here and what storylines they are establishing for future books. Yes, indeed…  this chapter deserves a hearty: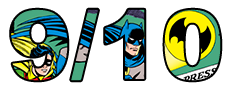 Images Courtesy of DC Entertainment