"Justice/Doom War" – Part Three
Writers: Scott Snyder and James Tynion IV
Artist: Howard Porter
Color Artist: HI-FI
Letterer: Tom Napolitano
Review by Bryant Lucas
The war rages on, as the battle between Justice and Doom continues to escalate in this week's blockbuster Justice League #32.
Lex Luthor and the Legion of Doom have divided their efforts to search for the missing pieces of the Totality. Therefore, the League is scattered across time, fighting a war on three fronts: the past, the present, and the future.
Having been sent to 1941, The Flash and John Stewart meet The Justice Society of America. While searching for the Totality, our heroes are confronted by Sinestro, Cheetah, and Grodd who are now responsible for the bombing of Pearl Harbor.
In the future, Batman, Superman, and Wonder Woman deal with an oversized Brainiac who has started bottling Hypertime in search of the totality. They meet Kamandi, the last boy on earth, who leads the Trinity the location of the Totality.
Meanwhile, in the present, Luthor and Perpetua fend off attacks from the Thanagarians while heading to the edge of the universe. They are searching for the Anti-Monitor in hopes to recruit him for their cause; however, upon finding him, things don't quite go according to plan.
Compounding Payments
As per usual, Snyder and Tynion's script is a delightful mix of heart, humor, and spectacle. This talented duo handles these massive plot-lines with ease, constantly shifting between stories naturally. After reading the third issue in this story, It's blatantly obvious that Snyder and Tynion had an end goal in mind when they started their tenure on Justice League. "Justice/Doom War" continues to pay off, as certain major reveals in this issue were seeded fairly early in the run. In short, Justice League is the book that just keeps on giving.
Porting in Porter
Justice League #32 featured a shift in the creative team, as Howard Porter and HI-FI have taken over the art duties from Jorge Jimenez and Alejandro Sanchez. As always Porter's work is rich in detail and highly stylized. While readers will undoubtedly notice a shift in artists when this story is compiled into trade-paperbacks, I don't think the transition will be particularly jarring. There are moments in this issue where it's obvious that Porter is trying to channel Jimenez's work, and, while it's not a carbon copy, he does a good enough job to where the book feels artistically consistent with previous issues.
Conclusion
Justice League #32 is another excellent instalment in this monumental run. Snyder and Tynion's vision for this title has been fully realized, as plot points begin to culminate. The crescendo has begun. And I am terribly excited about this story's resolution. Although I've said it before, I'll say it again: if you aren't reading Justice League, you're missing out on a treat.
Final Verdict: my review does not do this book Justice. Get this title now.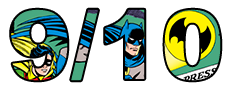 Images Courtesy Of DC Entertainment