The highly anticipated Joker film from Todd Phillips will hit theatres this year. Joaquin Phoenix is playing the titular, and one of his co-stars is very optimistic.
Actor Marc Maron is rumoured to be playing the producer of Robert De Niro's chat show.
Marc was recently interviewed and delved into some of his experiences working on the movie.
I think it's a very interesting approach to this world. I've been somewhat judgemental when it comes to comic book movies and I've got a little push-back in the press for being a hypocrite. Whatever I think, if you get a call and someone says, "Hey do you wanna do a scene with Robert De Niro and Joaquin Phoenix?" your principals fall to the wayside. If it's relative to what I think of Marvel movies then it's like, "Yeah, of course I'm gonna do that." Oddly, it's not that kind of movie. The approach that Todd Phillips has taken is more of an origin story and a character study of a mentally ill person that becomes The Joker. It's more of an intimate and gritty movie with a very specific scope. It's going to be really interesting to see how it comes out."
Maron is fairly well known for his criticism of comic book films, having spoken in depth on his podcast WTF with Marc Maron about his thoughts on some of the industry's offerings.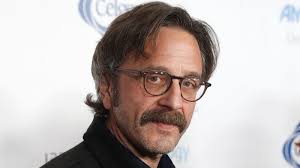 The actor finished off with what it was like working with the films two big stars.
It was great to meet [De Niro] and it was great to see him work. I wasn't really beside myself because they do become people very quickly. When you're not shooting you are just hanging around. Still, he's Robert De Niro and the subtleties of how he does what he does is innate and amazing to watch. He's a nice guy and kinda shy, but it was a great experience and not too much of a mindf*ck. Joaquin is another story. I didn't really get to talk to him because he was pretty immersed in The Joker. I was just like, "I'm not gonna bother that guy." That was fine. You just gotta respect people's process.
Maron certainly paints an interesting picture, with Phoenix being so immersed it looks like we could be in for something very special.
Are you excited? For me personally, October can't come quick enough.