We can always expect the highest quality of art pieces from Sideshow toys. I know them best for their hyper realistic statues behind the glass cases of all great comic book stores. Their newest offerings show Batwoman and Huntress looking at their finest, but some new pieces leave the real and enter worlds of whimsy. Then Joe Ledbetter's designs for DC's Artist's Alley bring it deeply into the zoological.
The first new releases feature two different takes on two different allies of Batman. The Huntress statue is based strongly on Jim Lee's take on the character in Batman: Hush, featuring interchangable weapons in her right hand. The Batwoman statue is wearing her away gear according to artist Ant Lucia. Based on the DC Bombshells artistic take on turning female characters into classic pin-ups, this one is an instant classic.
The Stylish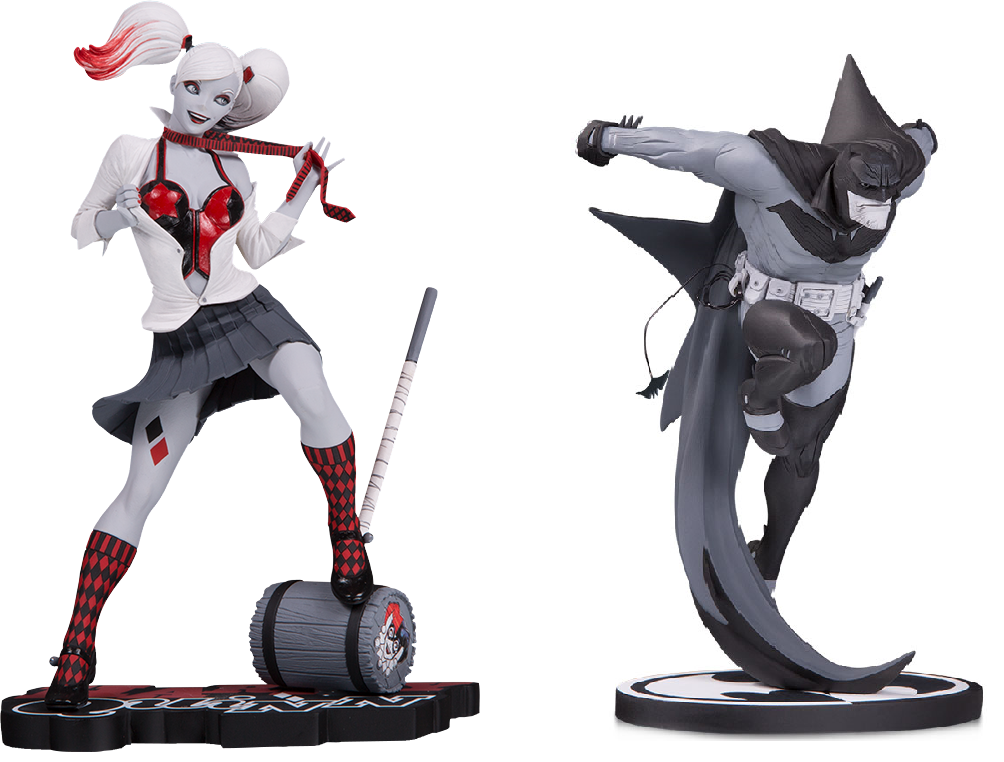 Both these pieces are part of two different black and white collections. The final sculptures were made by the same Sidehow sculptor, Jonathan Matthews, and he handles the cartoonish but clearly iconic looks of both characters. The Batman is older and haggard, fresh out of Sean G. Murphy's White Knight while Harley Quinn looks to be coming into her own, shedding drab clothes like Harleen Quinzel did in Mad Love. The reds in the Harley statue really pop, drawing the eye the same way Batman leaping does.
Animal Magic
Artist Joe Ledbetter has made something very special for Sideshow here. There are many names and characters in Batman's world who link back to animals of some kind. I'm surprised art pieces this cute haven't appeared sooner. The details on these charming vinyl statues are really rewarding to those who can look a little deeper. The style is very fitting compared with Hanna-Barbera – there's something very TopCat about Catwoman. Robin leaning on his wings in flight looks a lot like he's bursting through the drum on the cover of Detective Comics #38.
Such unique takes on characters we all love makes Sideshow the perfect stop for picking up memorabilia for any Bat-fan.