What is an exquisite way to enjoy the new Pocket Pops from Funko? With a bowl of milk of course! You heard me right, Funko is bringing in exclusive collectible Pops to even more coveted cereal boxes as prizes. While there have been other sweet treat cereals recently announced, such as of Freddy from Five Nights at Freddy, Jason Voorhees and Freddy Kruger already. Now we have Batman and Batgirl added to the mix!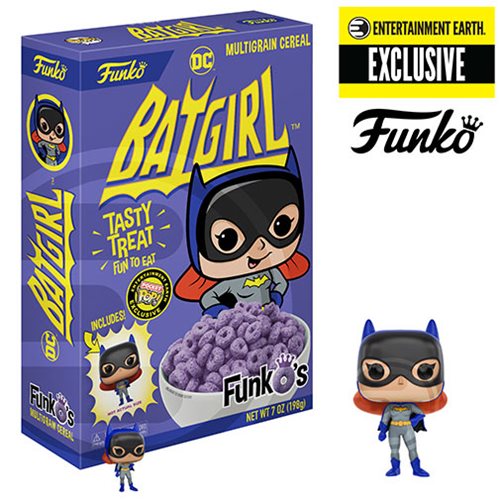 Funko has definitely done it with these mini 7 oz. containers of joy. They have about eight of these cereals currently available for purchase at select retailers. They range in genre from game and film. With the launch of Batman and Batgirl we get the door opened to perhaps other superheroes. *Cough* Zatanna please.
Funko launched these cereals at the beginning of the month, currently pre-orders are being taken for the vintage art-styled boxes for the blue toned Batman and purple for Batgirl multigrain cereals. These two cereals are Entertainment Earth Exclusives and can be ordered here:
Both are retailing for the price of a normal Pop at $9.99 but bring to mind the essence of Saturday morning cartoons and decoder rings or color changing spoon prizes in the bottom of the cereal boxes. I mean that's just flat out cool.
While checking them out, you can also see all the new exclusives and other Pops being currently offered from Entertainment Earth. Also Funko's social media platforms and websites update pretty regularly with new content, so it is super easy to find the ones that call to your pop culture covered heart. For me I am going to be keeping an eye out for the Golden Groot release.
What Pop are you crossing your fingers for? Who are you hoping for next?