Two short weeks ago, Telltale Games gave us the skinny on the final chapter of their most ambitious game to date. Today sees the release of amazing downloadable trailers that highlight both versions of The Joker.
These games are rich, deep and incredibly layered. The trailers look incredible too!
Two possible Jokers. Two epic trailers. One final episode. See what's in store in the two separate storylines contained within episode five.
"Same Stitch" contains two separate story-lines with two possible versions of The Joker. Each trailer focuses on a different potential experience, with the choices made determining which story, and which version of The Joker, appears in the finale.
The Telltale Signs
Who would you choose?

A friend whose unhinged approach to justice turns your allies against you, or a sworn enemy who will stop at nothing to see you suffer as your city burns? Based on the relationship you've built with John Doe, you'll see one of two very different stories play out.

So what'll it be, Bruce? Friend… or foe?
As the description indicates, "Same Stitch" features two totally separate takes on the fully evolved John Doe. One, a ruthless villain, and the other an unpredictable vigilante unlike any other portrayal of DC's iconic character.
Lead writer James Windeler says:
Without exaggeration, "Same Stitch" is the most ambitious piece of content Telltale has ever produced. We had to adjust our usual development process to accommodate the added scope, but it was super important to us to honor players' choices, whether they chose to befriend John or not. We had to deliver on the season's central promise of allowing players to craft their own Joker.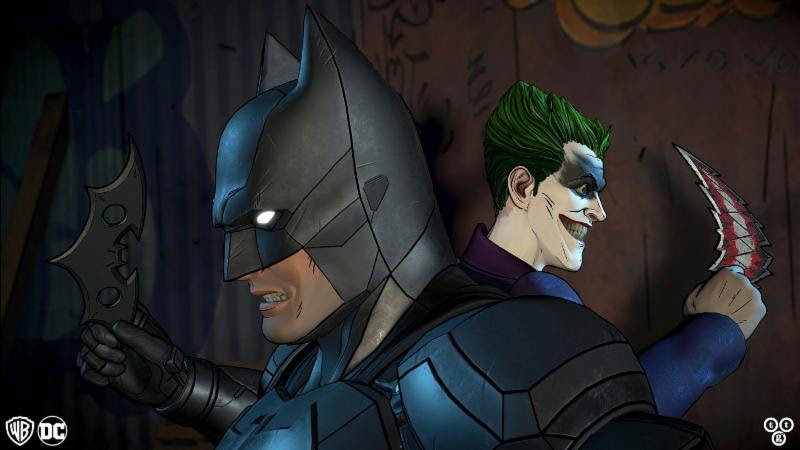 One Joker Too Many
Telltale's vision of Batman features an award-winning cast of talent. Troy Baker returns as Bruce Wayne/Batman, and Anthony Ingruber reprises his fresh take/s on John Doe/The Joker.
A 'Season Pass Disc' for Xbox One and PlayStation 4 is currently available at retailers across North America and Europe. The disc includes the complete first episode, and download access to all new chapters on release.
For more information on Telltale Games, visit the official website, follow @TelltaleGames on Twitter, and like Telltale on Facebook.