The toy and action figure manufacturer, Funko is revving up for San Diego Comic-Con coming up next month. Like most collectibles companies, they are rolling out their limited edition and SDCC exclusives for the big event. This week's big reveal came with a bunch of Batman stuff and even a Justice League figure that may reveal something about the film.
Everybody Needs Toys
Funko is mostly known for their adorable interpretations of pop culture characters in their line of Pop! vinyl figures. There's a few treasures in this reveal for Batfans.
The Blue Chrome Batman seems to have been a limited edition figure from a showcase in Tokyo. A funky and weird, but very cool possible addition to any Batfan's collection.  The B:TAS geek in me adores the Man-Bat figure. The Justice League fans will be excited to see Bruce Wayne dressed in a stylish business suit, holding a Batarang. The figure is likely reminiscent of the scene in the first Justice League trailer where Batfleck attempts to recruit the Flash and throws a Batarang at him.
Can the Funko figures get cuter? Apparently so, with their new Adorbz line of figures. Here are the SDCC limited editions in that line:
These designs are likely taken from the iconic Judas Contract run in comics. Could you ever believe that Deathstroke could look so cute?!
And here's a new figure that seems catered more for the adult collector. A tribute to Adam West, they are rolling a Green '66 Batman with the George Barris Batmobile… that's red.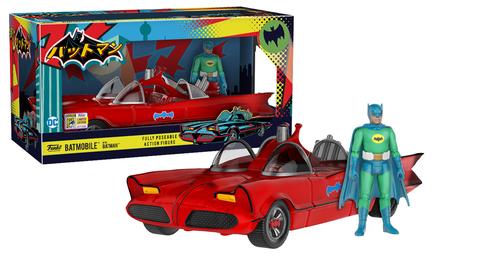 Limited to only 1500, this looks like a special one.
Check out this handy video showcasing all the figures:
Motherbox?
And now, the one that has the Internet speculating like wildfire, is the Justice League Aquaman Pop! figure. An otherwise normal-looking figure based on the Jason Momoa incarnation of Aquaman with one possibly revealing detail: the figure is holding a MotherBox:
Could Aquaman be in possession of a Motherbox? And if so, does he use it? It's certainly possible, but my guess is that at some point in the film, he gets hold of one, but I believe that's the most of it. What use would Aquaman have for a Motherbox? It's likely he came into possession of one and his curiosity about the nifty object leads him to join the League.
For those attending SDCC this year, be sure to save up all you can to grab some these essential additions to your collection.
San Diego Comic-Con will be held from July 20-23, 2017.
Justice League hits theatres November 17, 2017