"League of Shadows", Part One
Writer: James Tynion, IV
Artist: Christian Duce Fernandez
Since the release of Rebirth, I committed myself to reading a host of story arcs across the DC Universe and I wasn't going to let Detective Comics slip. After interviewing Tynion IV (through our partner site) at San Diego Comic-Con 2016, I was keen to commit and immerse myself in a complex, yet reverting story.
Detective Comics #951 introduces us to the brutality that comes with the League of Shadows. The opening sequence takes you back three months with Shiva representing the League in the most dark and sinister way. No mercy, brute force, and willing to do whatever it takes to get what's needed. A sequence that drags you straight into the story immediately and captures your attention.
Fast forward to now in Gotham City. Batman & Batwoman are at the center in the depths of conversations that continue to drive their relationship and those who help fight alongside the Dark Knight. Cassandra Cain is taken through her paces in a fight simulation with Batwing, the dial is turned up with Batman wanting to ensure his counterparts are ready to take on any threat that may come their way.
Without spoiling the story, Batman finds that someone of high stature is murdered by the League and he finds himself on the back foot with police entering the murder scene thinking the Dark Knight has had a hand in the crime.
Seeking answers to what is happening in Gotham, Batman and Batgirl see Jacob, and truth be told, the conversation that takes place is a brutal yet honest one. It sets the tone of the story with what may come in regards to the League. This week's edition of Detective Comics ends with a slight twist that will have you gasping for more, and wondering what the League of Shadows is plotting in order to capture the Batman.
Conclusion
Detective Comics #951 sets the scene quite well for what will be an interesting intersection between Jacob, Batwoman and the Batman over the next few weeks. The visuals and artwork continue to impress, adding to the depth of the story. My favorite of the Rebirth titles.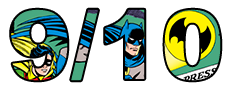 Images courtesy of DC Entertainment