"Blood of the Manta", Part Three
Writer: Benjamin Percy
Artist: Khoi Pham
(Minor Spoilers Ahead)
Daddy issues plague Teen Titans #11 this week. While we left on a bit of a cliffhanger last issue, Black Manta steps up to help his boy Aqualad escape from the jaws (and tentacles) of a giant octopus monster thingy (technical term). While it gives hope to Aqualad, and us readers, it doesn't last long. The villain saved him for his own personal gain, not because he's a good person. Meanwhile, the rest of the Titans are following Starfire's lead, Robin is being the typical Damian Wayne, and the team ultimately ends up at the sea battle. Aqualad embraces his power and sends Manta to the ocean floor, officially becoming a member of the team.
I'm a little surprised this arc only lasted three issues. I surely thought writer Benjamin Percy was going to expand this story a little longer, but that's okay. It's fun, concise, emotional and exciting. Less is more and the arc totally worked in three issues. Emotion clearly is the focus in "Blood of the Manta", showing us the struggles Jackson is going through after finally coming face to face with his father. How could you react when you find out the man you've been searching for is  the villain of the seas? His thoughts, feelings and actions stay true to character and it was easy to empathize with the young lad. It was also easy to love hating Manta. His quick banter oozed villainy. His motivations were clear and selfish, what a classic villain should be. However, he too has some daddy issues, which were on display in a few quips.
The art is stellar in this issue. Khoi Pham has been on all three issues, and you're getting your money's worth. Not many artists these days could create images of wonder under da sea and Pham nails each panel. The action below, and above, sea level is exciting and detailed and picks up the pace of the issue. On the other hand, Pham also created perfect panels to depict the emotional struggle out young hero is going through. This is a great looking book.
Conclusion
Emotional, fun and exciting, Teen Titans #11 caps off a great three-issue arc that finally brings Aqualad into the Teen Titans.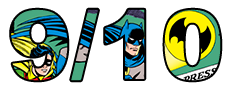 Images courtesy of DC Entertainment
Images courtesy of DC Entertainment