"Poison Ivy" – Chapter Fourteen
Writer: G. Willow Wilson
Artist: Marcio Takara
Color Artist: Arif Prianto
Letterer: Hassan Otsmane-Elhaou
Review by Fay Clark
Poison Ivy has returned to Gotham and is trying to find a place to settle down. Now if only she could find out who's been dropping bodies with a flowery calling card, in Poison Ivy #14.
Well, wasn't "Knight Terrors" a lovely little detour? We do love a DC-wide event, but now it's time to go back to our regularly scheduled programming.
Well, that was Fruitless
G. Willow Wilson has never let me down, as every issue of this series so far has been a smash… and this latest chapter's no different. There are so many things that have gone on in the storyline, and we see them come back round. The way that Wilson weaves in older plotlines is masterful, as nothing makes you feel out of the loop and confused.
Pamela and Janet from HR have been going through one hell of a trauma bonding stage, so you have no idea how much I want Janet to stick around and become one of the main characters in this series. Her entire storyline in this issue had me cackling. There's nothing more that I want to see, than Janet's interactions with the out-and-out crazy people in Gotham.
Meanwhile, Ivy has her own thing going on, to add to the drama. G. Willow Wilson has this amazing way of making sure you're always super intrigued by more than one thing at a time. The way that the tone and main purpose of this series shifted when it was picked up for an ongoing run was super unnoticeable. Wilson weaved in a new thread as she tied off another, and, all of a sudden… a whole new series was unfolding.
Irresistible Red
So, there are a couple of scenes in Poison Ivy #14 I want to talk about really badly, but unfortunately, that would mean spoilers. We don't do that here, so instead I will just say, ARE YOU KIDDING ME, JANET?!
Now we will move swiftly onwards. Marcio Takara and Arif Prianto had me gasping. The way they depict… certain scenes was just awesome. The facial expressions and character movements were conveyed so well and the flow of the story made so much sense that it was easy to fill in the motions between the panels. Arif's shadow and color work really jumped out at me in this issue.
Conclusion
More. I need so much more from this series because it's giving me things I didn't even know I wanted. G. Willow Wilson has taken one of my favourite characters and made her even more beloved. Also… I feel like if we don't get a Janet from HR spin-off, we will have been robbed of something truly spectacular. Hear me out DC!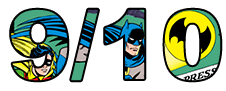 Images Courtesy of DC Entertainment