"The Offer" – Part One
Writers: Alan Burnett and Paul Dini
Artist: Ty Templeton
Color Artist: Monica Kubina
Letterer: Josh Reed
Review by James Attias
Batman: The Adventures Continue #3.6 feels more like a James Bond story rather than a Batman one. The Name's Man… Bat Man.
Let's dive in!
Bat-Tini Please, Shaken Not Stirred  
What happens when there are no major crimes left to solve in Gotham? Usually, Batman would open up an old cold case and try to solve it. Or be off with the Justice League liberating a group of oppressed aliens on Blargon VI.
This book, however, takes us down a different path. Bruce and Tim have taken a vacation. With Batgirl and Nightwing left in Gotham, as well as the GCPD. Bruce is using his quiet time to strengthen his playboy persona (poor him) in a beautiful tropical island resort with nothing to do but spend his billions.
It's an interesting way to kick off a new storyline, I was impressed as this sort of thing hardly ever happens. After being on holiday for almost 10 mins Bruce finds himself combat training because of course, he does. When he runs into a familiar face… without giving away any spoilers, (that a variant cover definitely shows #ShameOnYou), Bruce finds himself on a secret mission, windsurfing at night against speedboat henchmen, which leads him to the villain's doorstep. What comes next is in the title of the story…
Comic Reviews – Sponsored by MAX
The writing was fun, and a great change of pace from the last story, which was non-stop action. This has an element of slow suave spy work and not just punching and exploding your way to victory. The art was fantastic, the use of shadows during a certain part of the story was wonderful. Two bat thumbs up from me.
There was an element of product placement, too. When Tim is asked if he'd like to join Bruce on the mission, he says he'd rather stay at the resort and watch TV, which is followed by his joy that the TV has Max, formerly HBO Max. It did take me out of the book for a moment and I doubt it was a corporate decision to have this in the book, more of a writer's attempt at a tongue-in-cheek joke. Maybe I'm being too harsh, but next time throw in a streaming service like LexFlix or Wayne+ or dare I say it, Amazons Prime. My comedy is wasted.
Conclusion
Batman: The Adventures Continue #3.6 was a wonderful change of pace that leads us into a new story. I can't wait to see where this one goes next. Monaco? Jamaica? Star City?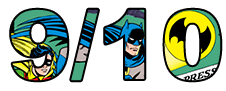 Images Courtesy of DC Entertainment
Review Written In Loving Memory of Kevin Conroy. Always Our Batman.