Writers: Becky Cloonan & Michael W. Conrad
Artist: Robbi Rodriguez
Color Artist: Rico Renzi
Letterer: Becca Carey
The Batgirls have been dealing with crazy after crazy, recently. There's been little time to slow down and relax, so I was hoping that in Batgirls #18 we'd get to see them finish off their dance party from the previous issue! Lord knows that the girls deserve some love, and downtime.
Surprise feelings!
Every time I write about the Batgirls I always say that they need a break and deserve some time to rest. Becky Cloonan and Michael W. Conrad have hit me hard in the feels with the latest issue! There's so much character development, and so many emotions.
The relationship between Steph and Cass keeps getting stronger and stronger and I love seeing how Cloonan and Conrad have bonded the girls together. It's even more awesome when Barbara's involved, as she's like a big sister to both of them, and keeps them out of trouble… most of the time. There were two standout moments with Cas and Steph this month, both having to do with growth and surprise emotions that I wasn't ready for! I may even have gotten a little misty eyed.
The Batgirls universe has some expansive repeat characters and we get to see a few familiar faces in Batgirls #18. I do love it when we check in on old friends as the way that Cloonan and Conrad weave their parts into the plot is always amazing. They all serve a purpose to the story without it feeling forced or out of place. It was a lovely to catch up with the characters, all while we're still speeding down Superhero expressway.
Superhero Chic
There's something about the way that Robbi Rodriguez draws everyone's hair in this issue… I couldn't stop looking at it! I would love it if Steph could show me how to do that ponytail, it looks so good and doesn't fall out when fighting crime! We all love a multi-purpose hairstyle!
Rodriguez's artwork is sublime. It flows so nicely from one panel to another, and when you mix that with the color work of Rico Renzi you always get get a fantastic result. They work so well together that I'd love for them to always style the Batgirls from now on!
Conclusion
The way that this series is moving is mind-blowing. When we started out there was no way I thought we'd get to where we are. 18 issues in and the girls still learning, bonding and fighting crime. Everything's ratcheted up and always intense and action packed.
I love seeing Steph, Cass and Babs grow and learn and create a bond more than friendship. This is a proper found family.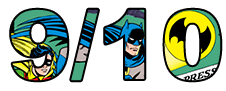 Images Courtesy of DC Entertainment