Park Row has become one of London's most romantic restaurants, in part due to the live music, sumptuous décor, and theatrical service, all of which make it a great place to impress.
This Valentine's Day, Park Row has created a Hungry For Love menu, inspired by the greatest couples in DC Comics. Think Batman and Catwoman, Superman and Lois Lane, and more. Expect edible lipsticks and superb dishes from acclaimed chef Alyn Williams, along with color-changing desserts and live music alongside.
This special three-course menu includes canapes inspired by Lois Lane, Clark Kent, Batman, and Catwoman, a choice of main course inspired by Aquaman and Mera, and a dessert inspired by Harley Quinn and Poison Ivy.
The three-course menu is priced at £75pp.
Due to popular demand Park row has now added a new dining space called Old Gotham City complete with projection-mapped walls – dine within this intimate setting before heading into the main room to enjoy the live house band.
The Monarch Theatre has limited availability for the 5 pm sitting. Tickets are £245 fully inclusive of your drinks pairings. The Monarch Theatre subtly pays homage to some of the DC universe's most iconic heroes and villains. Dishes take guests on a culinary and visual journey with the help of floor-to-ceiling screens and 360-degree projection mapping.
This is truly a one-of-a-kind gastronomic show, with carefully crafted staging and immersive courses that play with the senses. The experience is abundantly rich in storytelling, of characters good, evil, and the blurred lines in between.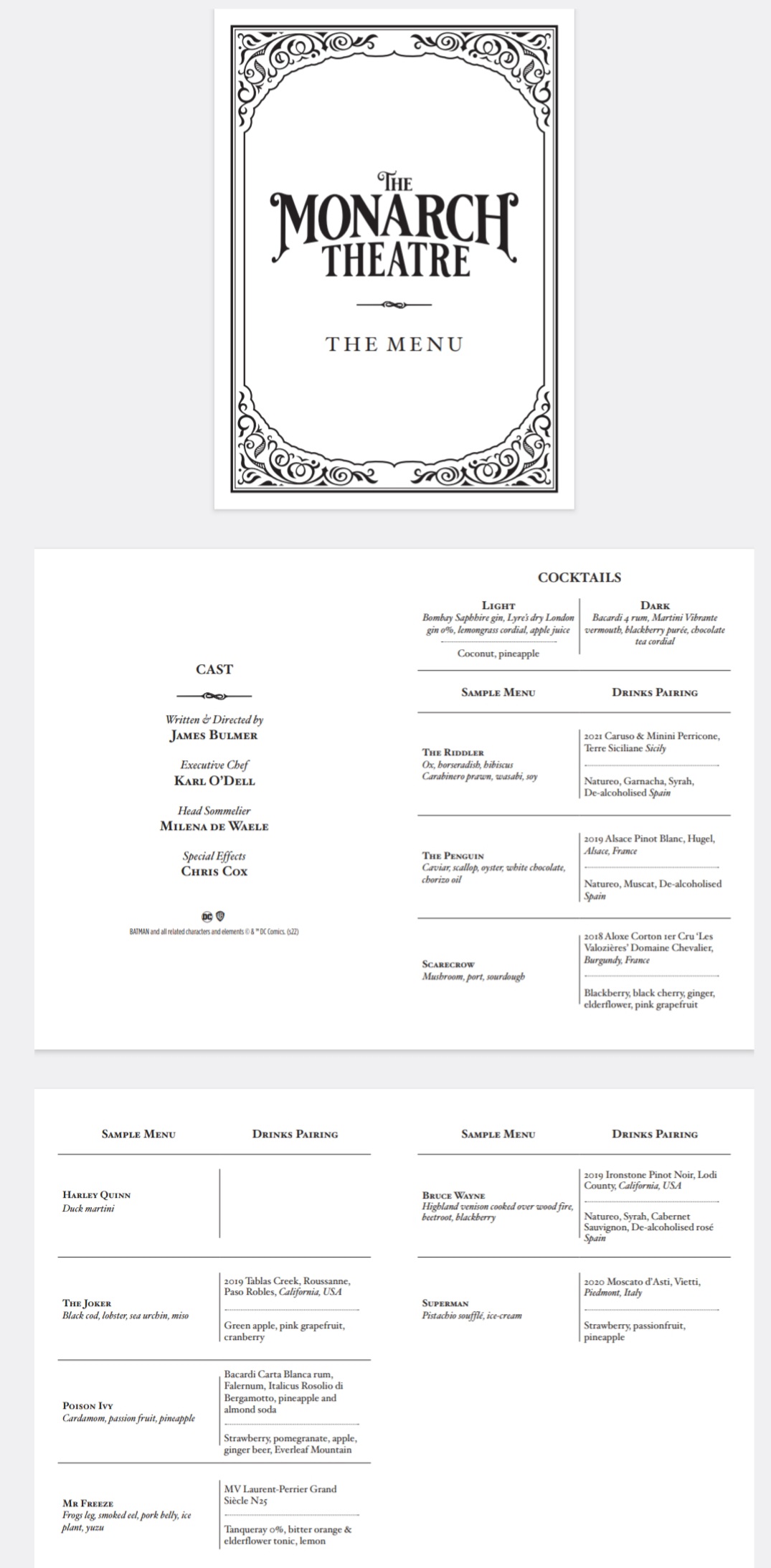 The Monarch Theatre features a sample menu inspired by The Riddler, The Penguin, Scarecrow, Bruce Wayne, Superman, and many more. Every dish on the sample menu is paired with a cocktail, wine or champagne. A vegetarian menu is also available and non-alcoholic drinks options are also available.
Celebrate in style at Park Row and make this a Valentine's day to remember.
Bookings for this special menu or Monarch theatre can be made directly through the Park Row website or via Open Table.
Images and Press Release Courtesy of Park Pow and Wonderland Restaurants